Devon Williams
Creative Operations ManagerPhone: 317-657-8111
Hi! My name is Devon Williams. I am the Creative Operations Manager, here at Nextfly Web Design. Contrary to popular belief, I do not handle any of the books or boring tasks. It is my job to make sure that all our our projects are moving smoothly! I have many years of Sales and Customer Service experience. I am looking forward to meeting with new and current clients with the hopes of revamping all your business needs.
What do you enjoy doing in your spare time?
In my spare time, I enjoy being active outdoors. During the warmer months, I try to go camping at least once a month with my husband and friends. During 2017, we purchased two kayaks to be able to enjoy various water activities. I was also given a paddle board for Christmas for even more fun on the water!
Do you have any pets? If so, tell me about them.
We like to think of our home, as more of a farm. We now have four dogs and a cat that come in all sizes! We have a little white Pomeranian named Logan, a quickly growing Great Dane named Moose, a diabetic husky named Arko, and our large rescue Great Pyrenes named Roxy. Let's not forget our rescue kitten, Apollo!
What My Co-Workers Say About Me:

"Devon is the master question-awnserer. She's the mom of the office. Pretty much we wouldn't be alive without her (or have coffee in the morning.)" -Lauren

"Devon is a wealth of knowledge. Sometimes when I freak out about a site I yell, "DEVON!" in my head like Kevin's mom in home alone. She NEVER gets tired of my questions. Even when she subsequently shuts the door. I'll find youu." – Ali

"Devon is the ultimate team leader. Plus, if you like the smell of fruit loops her office is the place to be." – Haley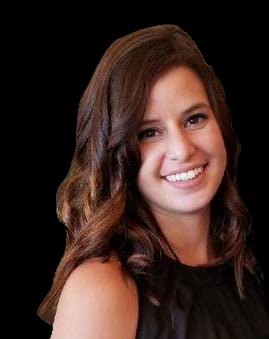 I would recommend Brett at NEXTFLY over and over again. We are in the construction/architectural industry and when we decided to revamp our website, we needed to appeal to creative types. We were also working on a budget. Brett understood this and surpassed all expectations. He was incredibly helpful at the beginning of the process and continued his patience and responsiveness all the way to the end...and we asked a lot of questions! He is not like most in his field... his priority seems to be building relationships and doing his job well. We will continue to use Brett for all of our website/SEO/technology needs.
Lindsay Gerlach
Brett has been a client of mine for over three years. He is a dynamic entrepeneur with excellent business sense. He has really grown Nextfly and has it poised for great things!
John Delucia
We used Brett Beck and Nextfly Communications for our family plumbing business. I was unsure and overwhelmed on where to begin with a web site, he stepped in and provided all the support needed. We are very pleased with the product and service. We have trust in Brett and look forward to working with him in the future. Best described as Top Notch in service and results.
Troy A. Aeschliman Remodeling and Construction
We worked with Nextfly to completely update and overhaul our company's website to a much more modern design. We couldn't be happier with the overall design and execution of the site! They listened to all of our ideas then really took them to the next level. Very innovative ideas that really made our website stick out from the competition. Always responsive and easy to work with and I highly recommend them!
Jeremy VIP Tooling
Brett and his company, NEXTFLY, have surpassed all our expectations in the development of the firm's new web page with the speed, efficiency, technological savvy and patience exhibited throughout the build process. Brett sat down with us personally and met every deadline outlined during our initial meeting. We recommend this company to anyone, particularly the small business owner, looking to enhance their company's digital presence.
Julie Ladendorf Law
Nextfly is in the process of redesigning our web site. I am very impressed with the quality of work performed byh Brett! His expertise with Web site design and logistics has been very helpful. Great to work with!
Karen Busse
LOVE THESE GUYS!!! I am the President of Kingdom Construction out of Marion,IN and Noblesville. I have hired 5 different web site developers and have NEVER had a positive experience. Historically these companies have not delivered what they were contracted to do or verbally promised... Now... for NEXTFLY... If I could rewind time I WOULD ABSOLUTELY HIRE THEM AGAIN! They under-promised, over delivered, was extremely responsive every time I contacted them. I could not of asked for a better experience. Even more then that, the website is absolutely top notch. I get complimented almost daily at the quality of the site and how easy it is to navigate. Love this whole team. The culture is amazing and could not ask for more.
Daniel Young
I would like to thank Brett Beck with Nextfly Communications for the quick service he and his staff provided. We Lewis Equipment Rental "D-B-A Pink Pots would like to note that Brett was easy to work with throughout the job. I would recommend them highly.
Rachel Lewis
I have been working with Nextfly on web design for my Indianapolis based company, 15tofit.com for about 3 years now. I've been very happy with their service. A couple of different times I've had unexpected T.V. appearances where I needed work done on 15 to Fit with less than 24 hrs. notice and Nextfly delivered. They were able to make the changes quickly and without complaint or ridiculous charges. I liked what they did for my Indianapolis web design for Indianapolis Pilates by 15 to Fit so much, that I hired them to design and optimize my national and international web-site Go Mom Fitness.com. My goal was to have a website that was worthy of national level press. Brett accomplished this goal and designed a beautiful, colorful site that is easy-to-navigate for my customers. He really listened to my input about what I wanted and created it in a timely fashion. He actually emailed me repeatedly to get things moving along faster. All of these great results for literally ¼ of the price of the other web design companies I interviewed. I'm definitely happy I choose Nextfly Communications for both the Indianapolis web design of 15 to fit and the national level Go Mom Fitness site.
Patrea Aeschliman, 15tofit.com
I want to thank Jason Rasnake at NextFly for the AMAZING work he did on my webpage. He was able to work quickly and make changes when I would call him with a new idea. He is very friendly and helpful. Jason has a lot of talent and would definitely recommend him. Thank you!!
Race