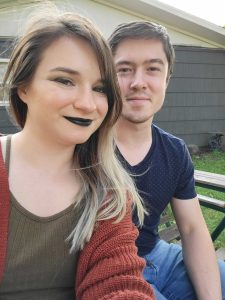 Hello there! My name is Cassie Reed, and I am the new Website & SEO Specialist for NEXTFLY! In my previous role, I worked for the Indiana Department of Transportation as their digital communications coordinator. While I was there, I got a lot of experience with website management and design as well as content creation for social media. Originally, I am from Texas, but moved to Indiana in 2017 to study English and journalism at Anderson University.
What is a Fun Fact About You?
During the COVID 19 pandemic, I was living abroad in Japan for about 18 months with my husband, Matt. It was difficult adjusting to a new life in a new country on top of the pandemic, but I wouldn't trade that experience for anything. I really treasure the experiences I had while living there.
What Do You Like to Do When You Aren't at Nextfly?
I love traveling and experiencing new things; however, I am usually at home reading a good book, playing video games or watching TV with my Australian Shepard or Golden Retriever by my side. I also enjoy writing short stories and I am currently working on a novel that I hope to one day get published.
I also have a lot of hobbies I like to partake in such as crocheting, painting, trying new recipes and growing various types of house plants and herbs. I am always looking for ways to express my creativity.
What Would You Like to Tell Nextfly Customers about Yourself?
Growing up, small businesses were a big part of my life. As I got older, I developed passion for small businesses, and I look forward to helping you, and your company, reach your goal, whether it be a redesign for your website or customer growth, I am always happy to help, and I look forward to working with you!