As we move into the new year, what are going to be the latest and greatest in website design styles, techniques, and trends that you can utilize for your own business or website? We'll walk you through some of these trends to see what you can expect to see on the web in 2022 and beyond to help you stay at the forefront of technology and web development.
Typography Design Trends
One of the most important aspects of any website is the typography and how to present it. This year you can expect to see a couple of trends in the realm of typography. One of these is the use of bolder typography elements referred to as Brutalist Typography. This style is currently being used in outlines, color fonts, as well as shifting shapes and fills.
Another trend we are beginning to see is the use of animating or kinetic typography. Using motion with your text allows you to capture the user's attention, set the tone of the website, highlight the things you want noticed, and really guide the user's eyes to what you want them to see. This trend has been around for quite some time as films began using animated opening titles to grab the audiences attention since as early as the 1960's. Now these same styles are being adopted for web pages for the same reason.
When it comes to typography in today's web there are really no rules and designers are taking advantage!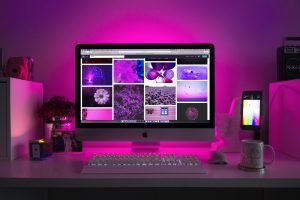 Dark Mode
While this trend isn't exactly new, you can expect to see a lot more websites going all in on a darker version of their current website, or at least an option to switch over to dark mode for ideal low light viewing that is much easier on the eyes. We have already seen dark mode utilized on mobile applications and operating systems, but we are seeing this trend moving into website design more and more lately. One of the most popular streaming services, Netflix, has already integrated this design trend into their background and user interface as well.
Accessibility Design Trends
The Web should be designed to work for all people regardless of software, hardware, location, language, or ability. To achieve this goal websites have recently started to include new features that will increase the accessibility for all groups.
Web accessibility can improve or enhance the web experience for people dealing with issues such as the following:
Visual
Auditory
Physical
Speech Related
Neurological
Cognitive
Even people without disabilities can take advantage of enhanced accessibility features in websites, such as:
People living in areas with slow internet connectivity
Situational limitations such as being in a bright or dark room or areas where audio cannot be used
People with temporary issues such as broken hands or missing their reading glasses
Mega Footers
What better way to end this blog than to talk about the bottom of the webpage, the footer. To the surprise of most, mega or large scale footers are becoming a great design trend for websites that need to include a lot of information or multiple points of engagement. Studies have been done showing that a good number of users will start out on a website by scrolling all the way to the bottom to find the information they are looking for, generally in the footer. Because of this, developers have been taking advantage of where their users are looking and putting the content they are looking for as well as calls to action right there in the footer for easy visibility and access.
This year is just getting started, but we are looking forward to seeing what other design trends we will see in 2022!
If you feel like your website is in need of a refresh to be brought up to date with the latest trends, please contact us to find out how we can help.