Correlation does not imply causation. Does it actually impact SEO? Yes, but not in the ways you would think. While any search engine, such as Google, does not allow signals from social media to directly impact a business' ranking, there are many ways that engaging on social media will impact your SEO. I've outlined a few ways that engaging your business on social media will help your business in the long run.
Social Media Profiles Rank In Search Engines
When you search the name of a business in a search engine, such as Google, the correlating social media profile will also pop up on the SERP, or search engine results page.alongside the respective website. If your company's website is not only able to hold rank, but your social media platform as well, your company will take up very valuable real estate space at the top of SERPs. This ranking will help your business knock out probable competitors.
TIP: Consistently engage with your audiences on social media
Where There is Smoke, There Is Fire 
Smoke is certainly not the cause of any fire, but when we smell smoke, we look around to see what is hot or burning. Social media boosts brand awareness. As of the second quarter in 2018, Facebook had 2.23 billion active monthly users. Active users are defined as those which have logged in to Facebook during the last 30 days. Posting from your business' social media platform encourages users to migrate to your official website. Engaging with your prospective clients via social media helps keep your brand on the tip of the tongue. This will in turn increase your organic search ranking.
TIP: To keep an audience engaged, ask them questions or start discussions.
Links, Links, and Higher Ranks
Putting this content in the last section would be relevant, but this part is so important that it deserves a deeper dive and a section all to itself. Ranks are driven by links. Social sharing can increase the visibility of a page or site.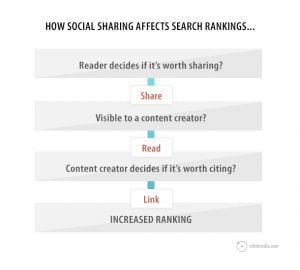 When a page has a higher visibility, the increased chance it has of being noticed by a social influencer. "Swipe up for the link to…." Hear that on Instagram lately? If they link that page, the more likelihood it is that that page will rank. Especially if this influencer has a large following. But, a user must find it so enticing or useful that they feel inclined to click and follow the link.
"It's not the actual social activity that matters, but what happens as a result of that activity. Optimizing and maximizing creator impressions increases the chance of obtaining links from the group of people who power the link graph."  -AJ Kohn, Blind Five Year Old
TIP: Build relationships with content creators and social influencers such as bloggers, journalist, event producers. 
Local SEO Relies on Social Media
Google reported 80 percent of smartphone users perform searches to find businesses near them on their phone. We as consumers don't search to find a mediocre business or service. We use social sites, such as Yelp, to help us find the best or the highest ranked business to fulfill our needs in the area. Yelp makes it easier for businesses to leverage locality. Why? Because it allows an opportunity to display geographic location and gives a platform for users to review and even discuss with one another about said business. This is also a way to hold companies accountable to continually push to be the best in their industry.
The Growth Of Social Signals In Relation to SEO
Social signals are human interaction metrics on any social platform like Instagram, Facebook and Twitter. They come in forms of likes, dislikes, votes, pins, views, etc which show the value or how well-sought after content is. The indirect impact this has on SEO is similar to sharing. It looks like this:
Increased inbound links and citations due to improved online visibility/brand awareness. This increases the overall visibility and brand awareness. If you are able to be found, you are able to be linked to. This in return creates loyal consumers organically. The organic following will help your business grow all together.
Social media is a beast that is always changing. It's such a versatile tool that you as a business owner must not shy away from. Even though just the word, "social media" often times comes with a  negative connotation, it is simply out of our hands how it will only continue to grow in the future. However, there are so many ways you can use it to increase visibility for your business.