I have always enjoyed the game of golf.  Here in Phoenix it is a way of life.  We live in one of the most beautiful places and to be able to play golf here is a luxury.  I've dealt with companies in the past that focus their marketing efforts toward golfers.  After all, they are a key demographic.  Typically they are men and women with disposable income and often business owners.  It is because of this that I decided to do a little networking and marketing of my own for our web design business here in Phoenix.
When it comes to getting the word out about Phoenix web design, I'm not necessarily trying to take my existing customer to a golf base but I am looking to meet new business owners.  That means getting myself in front of strangers.  The real key to my networking campaign is getting into the right group on the course. 
Here are a few cool tricks that I've learned-
During our busy golf season here in Phoenix, golf is much more expensive than in the summer months.

 

I try to do most of my golf networking, not just golfing for fun, during the winter months (October – April).

 

I play somewhere expensive.

 

If you want to rub elbows with the wealthy, go to where they play.

 

Call the pro shop and ask if there are any threesomes you can join.

 

Most of my friends have jobs that don't allow them to get out and golf during the day so I am usually flying solo anyway.

 

Nobody likes golfing alone.

 

You can also use the Golf Now app.

 

Many times they post a "hot deal" on the fourth spot in a threesome that is already scheduled to play.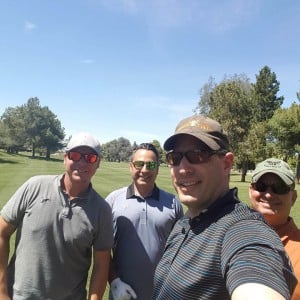 During your round you should always play 100% honest.  Count every stroke and drop throughout your round.  It is often said that you can learn more about someone over 18 holes than you can in any business meeting or conversation.   The group you're playing with will take notice of that and realize that you are honest and upstanding.  I make sure to complement the good shots of other players.  It is a great habit to have and good golf etiquette.  Also be sure not to drink too many beers while you play.  You may get invited for beers at the 19th hole later.  The answer is always  "yes"!
The question will ALWAYS arise during the round "What kind of work do you do"?  Be prepared to answer.  This isn't a time for your "2 minute" elevator speech.  People are golfing and someone is getting ready to hit.  My response is always "I run a web design business here in Phoenix".   As the round goes on, I ask them about their careers and make note of their companies and profession later on my scorecard close to their names (just to make sure I don't forget).   
At the end of the round, invite them for a beer if they haven't invited you already.  Talking about the round over a beer is a great bonding experience.  By this point you may all as well be old friends who have known each other for years.  You have successfully made friends.  This would be a great time to get out a few business cards and hand out your contact information.  Maybe even discuss playing another round of golf in the near future.  With any luck, they may even have a card or phone number to share with you.  This is what networking is all about.  It's about making new friends and it is fun!  You don't need to sell anything.  It's more about knowing more people. 
Once I've cultivated a relationship, I am happy to go back to that scorecard and look up the businesses of the other players.  Since I run a web design business here in Phoenix, I may just let them know that their website needs some help the next time we go golfing.  They will be impressed that I recall where they work and what they do for a living. 
Networking in awkward social situations is always uncomfortable.  Often times it's a bunch of people wearing nametags and making super strange small talk about whatever.  When people get together for golf, it creates a common bond and a team atmosphere.  You will find that all of these discomforts are removed and you can share laughs with people as they really are.  Happy Golfing!
Luke Wiseman
NEXTFLY Web Design
[email protected]