As we all know, Apple updated it's iPhone operating system recently to iOS 8. With this update, there have been many new functionalities added as well as new apps that have been developed by the Apple team.
One of these apps that Apple put on our phone is called "Tips". Tips breaks down nine new functionalities of the iPhone by showing you where and how to use it.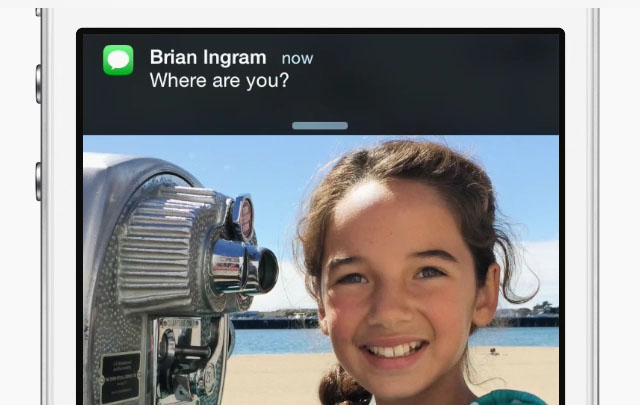 Quickly respond to a notification
Users can slide a notification down to quickly reply to a message without leaving the app they're currently in.
Julie – Although I haven't used this functionality yet, I know that I will.  Immediacy is one of the things that Apple does very well. With Siri, you can easily say "Call Mom" and I can get her on the phone right away. With FaceTime, you can see someone across the state with the simple click of the bottom. Now, with Quick response- the ease of texting someone back gets simplified. Awesome.
Katie – This was a feature I was the most excited about. I often find myself forgetting to respond to a message because I was in an another app when I got the notification, but didn't want to switch apps to respond. I've already used the feature and love it!
Brett – I've been on beta for several months now, and haven't started using this new feature until just recently.  At first I thought "why" – but after using iOS 8 for awhile, I've found myself using it more and more.
Andy – This is cool for walking into or being in meetings.  Other than that, probably never use.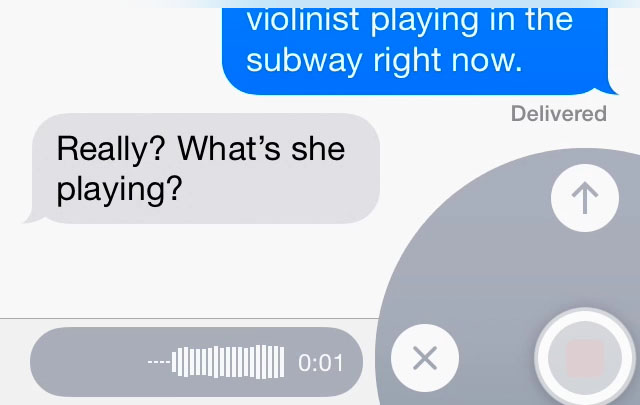 Send an audio message
Users can record an audio message that the recipient can here.
Julie – I've increasingly started hating voice mail more and more so I'm hoping this catches on within my family. Although I don't see myself using it frequently, I hope that my dad does.
Katie – Like Julie, I don't like the sound of my voice. I would rather just type something out than force my voice upon someone. No one deserves that. It also seems a little inconvenient to have to hold your phone to your ear to listen to someone's message. I would rather just read the message and move on. I'll give it a try, but I doubt this is something I'll use regularly.
Brett – This is awesome and is something that I look forward to using more and more.  I haven't been able to, as nobody else I knew was on the beta with with.  Now that everyone is upgrading, it will be something that will be used all of the time.  It reminds me of the "Push To Talk" service back in the NEXTEL days.
Andy – I will use this a lot especially in the car and with Austin… I like it because tone of message can now be sent via text.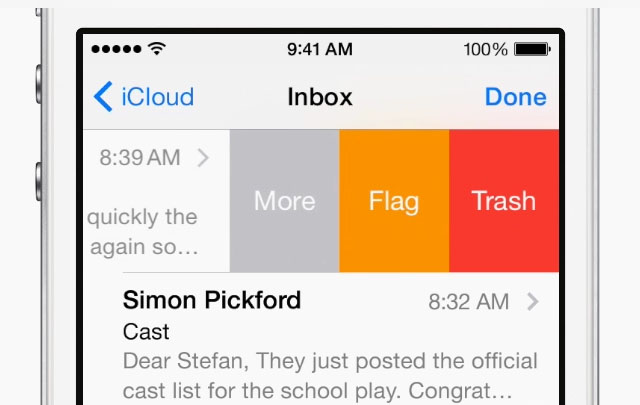 Quickly Manage Your Mail
With just a swipe of the finger, users can mark an email, see more options, or sent it to the trash.
Julie – I appreciate Apple catching up with the times when it comes to the functionality of it's mail app, but it's a little too late. Through frustration using the app in the past, I've put Apple's "mail" app in my "will not use" folder on my iPhone and replaced with Gmail's organized and well-functioning mail app.
Katie – I don't use the Apple Mail app, so I'll never use this feature. Gmail all the way!
Brett – Absolutely not; hate the Mail app.
Andy – Use it all the time now.  Mac Mail is bomb Brett doesn't get it.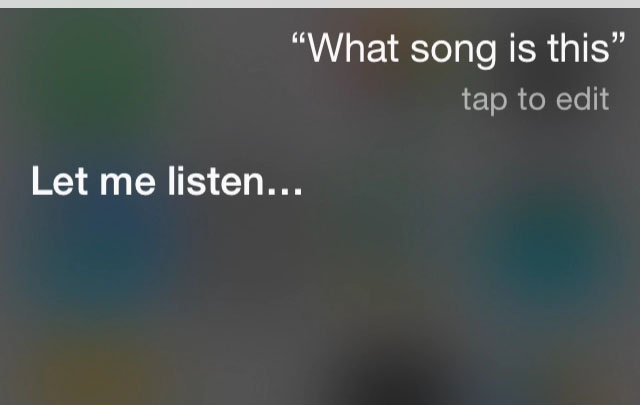 Siri has Shazam!
By accessing your microphone, Siri can listen to a song and identify the name and artist. She even gives you the option to buy it from iTunes from the same dialogue.
Julie – This is awesome! No more Shazam! It's nice to be able to delete an app since Apple is making me keep so many of theirs. When I first tried iOS8 in beta I used this functionality a few times. So I know the next time I'm in the car or watching a show I'll be glad this exists!
Katie – I'm not a big Siri user, in fact, I can't think of the last time I used it.. wait, have I ever? But I use Shazam a lot. I may give this a try; if it works well, maybe I can delete Shazam and free up a little space on my phone (goodness knows, I need it!).
Brett – I mean, maybe?  I usually know what song I'm listening to, as it's my Spotify playlist. 🙂
Andy – Means I can delete Shazam… so SHAZAM!!!!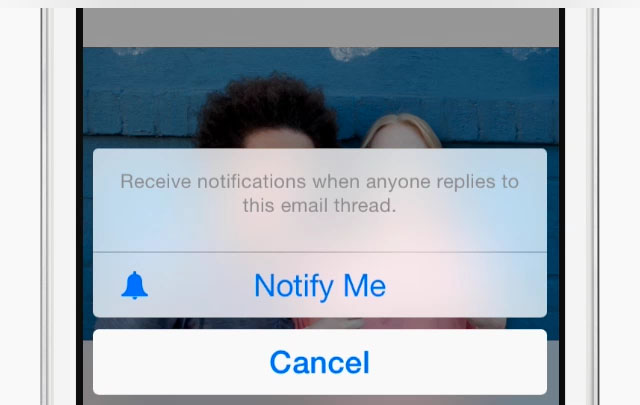 Get reply notifications
Emails can be marked to notify a user when a reply is sent.
Julie – Since I don't plan on using the mail app, I will never use this. Again, cool that it exists though.
Katie – Once again, I don't use Apple's Mail app, so I won't use this feature. I think the notifications of someone replying to the email in addition to the notification for the email is a little excessive.
Brett – Again, the Mail app is epic fail.  Will never use it.
Andy – I am kinda confused by this… not if i will use it.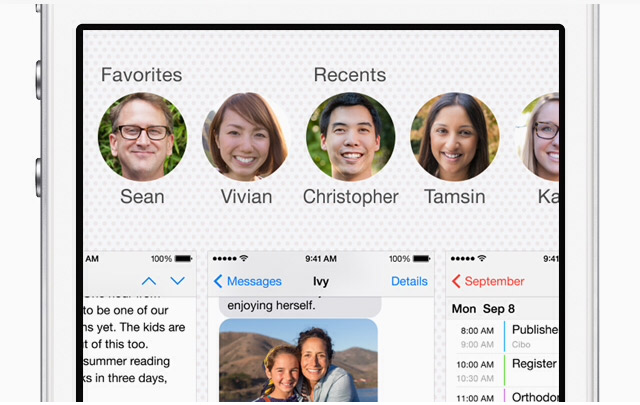 Reach your favorite people
User can double tap on the home button and see both recent contacts and Favorites. You can add people to your list of Favorites through the Phone app.
Julie – I've already used this a few times. Great idea and really easy to use. I can see myself using this daily when trying to reach someone. The only complaint I might have is that I wish I could access my favorites right away rather than my recents. I use iMessage a lot at work, making my recents all my co-workers, but when I get out of work is when I use my iPhone and would want my favorites to pop up right away instead.
Katie– I've already used this feature and I love it! I'm in constant contact with about 3 people in my phone, and so it's nice to be able to click on their face and start a conversation. Granted, it wasn't THAT hard to send a message or make a call to one of my Favorite, because usually my Favorites are usually at the top of my Messages anyway. But hey, I don't have to go to the Message app, so it makes like a little easier.
Brett – This is something I haven't really used yet.  I notice it, but it's just not in my general flow of the phone (yet, anyway).
Andy – Love it… Productivity just went up!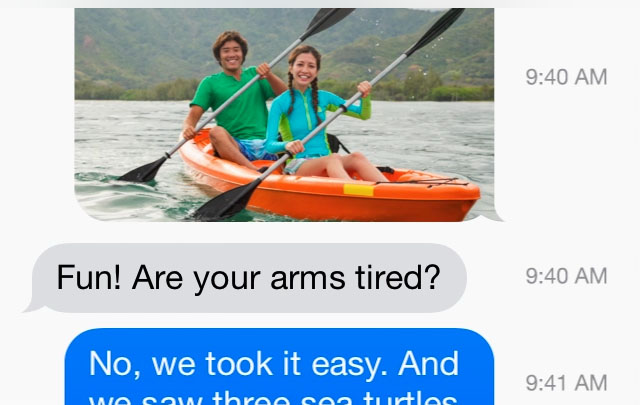 See when a message was sent
To see when a message was sent, slide the message to the left.
Julie – I could have sworn this existed before. I use it – helps me stay accountable by not being a jerk and trying to reply to people ASAP.
Katie – I'm 98% sure this has already been a feature.. I don't use it that often. But when I do need it, it's nice to have.
Brett – Not a new feature, but definitely something I use on a daily basis.
Andy – This is a new feature?  I thought we have had this since iOS 7???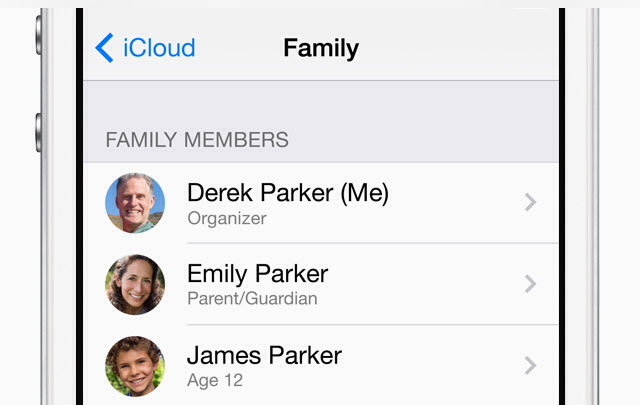 Share with your family
Users can now up to six people with iTunes accounts use the same credit card and share content like apps, books, movies, and music. Family Sharing lets families share photos, videos, a calendar, reminders, and more to keep everyone connected. Users can share locations, helping parents keep an eye on children and helping family members find lost devices.
Julie – This might be a good functionality for a future generation or if I was married to someone who liked Apple, but right now – I don't see it being helpful. My parents have no clue how to use iTunes and everyone else I know are Droid users. Bummer for me.
Katie – As of right now, I wouldn't want to share a credit card with multiple iTunes accounts, but I think the idea of sharing calendars and photos is something my parent will want to take advantage of. Plus, if they could help find a lost phone.. that would be great.
Brett – I understand how this works, but it is not something I have played with yet.  It's a cool idea though.  I'm sure at some point this will be something that my wife and I will use.
Andy – About frickin time.. Does it work with Spotify, Netflix, or Huluplus?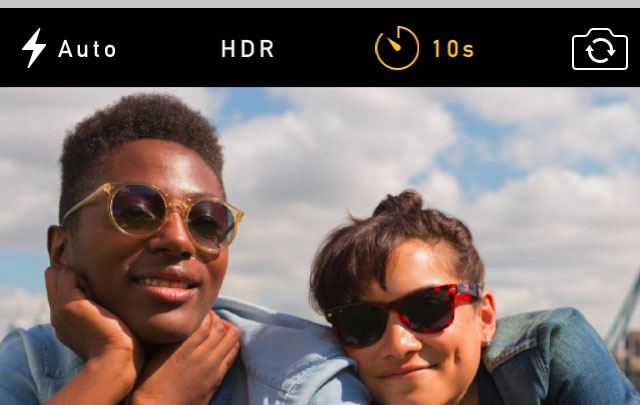 Take selfies on a timer
Just frame your shot, hit the timer button and the number of seconds, and then jump in the shot!
Julie – First off, did Apple really have to use the word "selfie"? Urgh. I might use this but probably not frequently. Taking a picture of yourself in public is embarrassing, I wouldn't want to drag that process on by 10 more seconds.
Katie – I can imagine there will only be one or two situations in my life where I think, "I'M SO GLAD I CAN TAKE A SELFIE WITH A TIMER". But other than that… I can't imagine I'll be using it often.
Brett – Lol, no.
Andy – Stupid.
As new updates are released, we'll be updating this blog, so make sure to check back often to see how our opinions are changing.
What do you think of the update? Are these features you think you're going to use?
Images by Apple