After writing my blog article last week about my iPhone's home screen, I was met with a lot of criticism from friends. "You have groups on your home screen?!" … "It's that too much?!" I replied with "Well, I use all of them – leave me alone!"
But then I thought about it – do I really use all of these apps? Maybe. But are they really Home Page worthy? Nope. Not all of them.
So I decided to do what I've now titled a "Home Screen Cleanse." It was time to really ask myself "what apps do you really use?"
Well, here's the breakdown.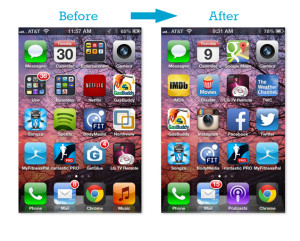 First thing, I got rid of the groups. My friends were right, groups are frustrating to have on the home screen.
I kept all the build-in Apple apps such as calendar, camera, phone and mail. Those are kind of a given.
Google Maps- Since I'm constantly trying to find my way around Indianapolis – Google Maps is important for me to have readily available. I'm always going to new places and getting lost so it is a necessity for the home screen.
IMDb – When watching a TV show I always wonder "where have I seen him/her before!?" and then automatically open up the IMDb app. I watch a lot of TV and that's mostly why it is on the home page.
Flixster – Movies are a big part of my life. Every time I come into town, my dad and I pick a movie or two to see together. It's our "go-to" in terms of father-daughter bonding. When I'm in Indianapolis, I often get texts from him saying "have you seen this movie trailer?" or "Rotten Tomatoes gave Mud a really good review!" It's a Home Screen Must Have for this gal.
LG Remote – Again, see "IMDb"…I watch a lot of TV and have a fancy one. So fancy..they have an app for changing channels! It's pretty sweet.
Weather Channel – I live in the midwest. Weather is unpredictable. You've got to be prepared!
GasBuddy – I drive home a lot and often check the gas prices along the way to see where to stop. You've got to have it close by when driving so you can quickly check gas prices on the go!
Instagram, Twitter, Facebook – I had these hidden on my third page so that I'd use them "less often" but it didn't happen…I just had to flip to the third page all the time. So I caved in and moved them to the Home Page. I use social media ll of the time. I admit it.
Songza – It's the best music app. I love it when at the gym and I need a quick playlist to make me run faster or a mellow playlist for sitting out on my porch. Songza knows what I like more than Pandora or Spotify ever will!
BodyMedia, Runtastic and MyFitness Pal – I just started a Wellness Challenge with CrossFit Zionsville and these apps help me keep track of the food I eat, distance I run and calories I've worked off. They help me stay accountable and will – hopefully – help me win the challenge!
I'm glad I cleared out my home screen. My phone is much more user-friendly and easy to navigate. Next time I'll focus on getting rid of apps that I NEVER use on pages 2 and 3. Later Draw Something… you were cool…once…