For years now we have been writing blogs about the advantages of having a mobile-friendly website and now is the time that you need to become proactive about pulling the trigger.
Recently, there was an announcement that Google is developing a new algorithm that increases rankings for mobile friendly sites.
How do I know if I have a mobile friendly website?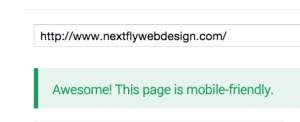 If your website is not responsive to different screen sizes or does not allow users to easily navigate throughout the website, it is not mobile friendly.  Also, if a user has to zoom in or scroll throughout your page to read the content on your website, it needs an upgrade!
Still not sure? Run your website through Google's Mobile-Friendly Test tool. Simply put in your website's URL and it will run a test that analyzes your site.
What does this Google penalty mean for your business? 
If you are a business that relies on having an online presence on search engines, you might be in trouble if your website isn't mobile optimized. With the algorithm increasing rankings for websites that have mobile sites, there will be a boost in rankings with other business competitors and your website might get a page bump.
Did you know: – On average, 71% of searches resulted in a page one Google click. Page two and three get only 6%.  Also,  on the first page alone, the first 5 results account for 68% of all the clicks and the results from 6 to 10 account for only 4%. (Marketing Land)
Getting bumped just a few spots can significantly impact your business through loss of customers and potential clients because they never even clicked your page!
Next Step: Make Plans for a Mobile-Friendly Website Upgrade
If you ran Google's Mobile-Friendly Test tool and didn't pass, it's time for an update. Before Google penalizes your site, give us a call for a mobile website redesign.
It's important not to ignore our warning here and, instead, take it very seriously. Make the transition to a mobile site by getting in touch with Nextfly today at (317)-219-3111 or email us here.