Google started a search engine platform, but has turned into a company that does so much more. They are the maker of a driverless car, provider of a super-fast wifi and most importantly, developer of the world's largest mobile operating system.
Due to it's influence in mobile, it's no surprise that Google the driving force in the internet's much needed shift towards mobilization of websites.
How is Google leading the internet towards going mobile? By implementing Mobilegeddon 2015.
What is Mobilegeddon 2015?
On April 21st Google will update it's current search engine algorithm  that is geared towards providing a mobile-friendly environment for the population's increasing number of mobile users. This algorithm will do the following:
Boost rankings for mobile-friendly websites
Penalize not-friendly, bumping down them lower in search rankings.
How should I prepare for Mobilegeddon 2015?
1. Make sure you have a mobile-friendly website.
A mobile-friendly website can be done in different ways. You can get a web app for your website, or you can make your website responsive. Responsive is best.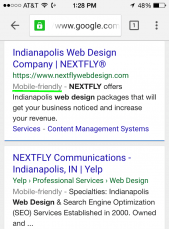 2. Test your mobile design
Want to make sure your website is mobile-friendly? Run it through Google's Mobile-Friendly Test Page and you'll get a clear answer from Google itself that will let you if your website is ready to go for April 21st.
Another thing you can do is Google your website from your mobile phone. In your website's Google listing it should say "mobile-friendly" underneath your web address.
3. Get off Flash
Apple decided back in 2011 that Adobe Flash wouldn't work on all Apple devices. Since then, Adobe has pulled the plug on Adobe Flash for all Apple mobiles phones and tablets in exchange for HTML 5.  If you have a website or mobile website with Flash – it's time to make your move off of it.
How bad will Mobilegeddon 2015 be on non-mobile websites? 
According to Zineb Ait Bahajji, a webmaster trends analyst at Google, the upcoming mobile usability ranking algorithm will have a wider impact than previous Google algorithms such as Panda or Penguin.
How much is that? Well, Panda affected up to 12% of search queries when it went live, while Penguin affected around 3.1% of queries at launch.
Although those numbers seem relatively insignificant, all businesses that were hit by the algorithms suffered significant blows to their business by losing their top ranking page one positions.  In exchange they were pushed back to further pages out of a user's sight and mind.
If you're a company that receives a lot of new business and customers from a Google search, get prepared for the April 21st algorithm is imperative.
Want to know how Nextfly Web Design can help?