There is an app you can download call SnapChat, a very popular mobile messaging app. Maybe some of you have heard about it? Maybe you have just started using it? It was created back in 2011 but, it seems as if it is a new app to most people because of the publicity it is getting recently for the growing number of users. According to Snapchat's website, "More than 60%, of U.S. 13 – 34 year old smartphone users are Snapchatters". But what actually is SnapChat, you might be wondering? I will fill you in!
First, let me start with how you create a snap –
Snap the picture or moment you would like to capture.
Choose how many seconds you would like that photo shown for, maximum of 10

 

seconds.

There are optional enhancements to edit or add to your photo.

Choose an emoji to add to your picture.
Create a caption to add to your photo that you can enhance with color & different fonts.
Create a drawing on your picture, i.e. – heart, hair, smiley face, mustache arrows.
Not interested in sending a snap with a photo you just took? You don't have to! You can upload a picture from your camera to snapchat and still use all the emoji's and enhancements in their chat portion of the app.
Sending Snaps To Friends
Once your snap is created you can chose which contact(s) you would like to send your photo to. You can send it to as many of your snap chat contacts as you would like! Once everyone has viewed the snap though it will be taken down, and they only get 1 time to view your snap. View carefully!
Your Story
Maybe you don't have anyone in particular to send your snap to, but would just like to add a photo. Put it up on your story! Once your story is published it can be viewed for 24 hours by other snapchatters as many times as they want.  
Adding Enhancements To Your Photo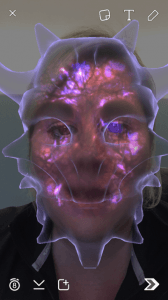 Let's look at adding an active enhancement to your photo.  There are free enhancements to add to a photo or some enhancements you can purchase to add some flair to your snap. Instead of clicking the round button to snap your photo, press and hold down on the face or main object on your camera screen. Several enhancements will show up at the bottom of the screen that you can scroll through to add to your picture. As you scroll through the enhancements they will apply to the photo so you can see what it would like before choosing that enhancement.
Viewing Snaps and Stories
When your contacts post snaps and tag you to view the snap or when they publish something to their own story you will be notified in the bottom corners of your page with a number in a box. Click on the number and it will take you directly to the snaps to view. The bottom left number are snaps people tagged you to view and the bottom right number are snaps people posted to their story.
Chat
Snapchat isn't just for sending snaps and stories, but also for real time conversations too! You can chat back and forth with text and snaps with another contact on snapchat.  The chat message will disappear once everyone in the chat has viewed the message. 
SnapChat Score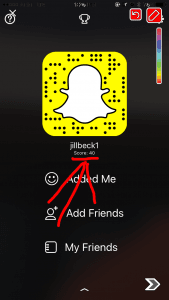 What is your snapchat score you might be wondering? The score is located on your home page which consists of the number of Snaps you've sent and received, Stories you've posted, and other factors. I have a low of score of 40, I have some more snapchatting to do!
These are just the basics to SnapChat. Hopefully this will help you get started with your snaps or informed you of something new. Enjoy snapping!