Do you love grocery shopping? I do! And I love food! My favorite part is trying the samples they have out, as they promote a new food or recipe. I get that not everybody enjoys going grocery shopping and it isn't always a fun experience, but either way it is a chore to be done.
For those of you who dread going to the store, there are some alternatives now that do note r actually go to the store and shop.  Online shopping! You can order vegetables online and have them delivered to your house. You can also order your food online from a grocery store and then set a time to pick them up and they will bring them out to your car. That is service! Whether you shop at the store or online, you still have to prepare your list.
It is so easy to pick up extra items at the store that aren't on your list, which increases your grocery bill! I like to think of grocery shopping as packing. It is something you have to prepare for and think ahead about. What are you going to buy? What do you need? It is best to pack all those items on a list before going to the store. Pencil and paper work great to make a list but using an app can be so much more effective.
List of effective apps –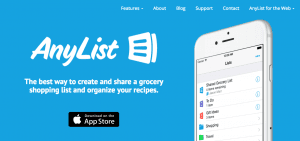 The app I personally use and would like to focus on is AnyList, which can be used on Apple devices. It is a free app, unless you upgrade to "AnyList Complete" for $7.99/year for an individual or $11.99/year for a family.
Features of AnyList –  
Import Recipes

Add Photos To An Item

Filter Your List On What To Pick Up From Certain Stores

Add Quantities & Notes To An Item

Share A List With Someone 

Personalize Your List With A Theme

Organize Your Lists With Folders

Get Reminders When Your Near A Store  

Password Protect A List
What I enjoy most about the app is being able to share a grocery list with my husband. We both can add items to the list whenever we want and there is no room for forgetting something you meant to pick up! You can add the item to the list while you are thinking about it. Once your list is complete, you can also incorporate your coupons.
I shop at Meijer once a week for groceries. I use "mperks" coupons and other coupons I have collected while grocery shopping to help save money. This is where the app comes in handy to help me save on the groceries for that week. (Because let's be honest, how much of a pain is it to filter through all your coupons while you are trying to find the items you need and staying out of everyone's way.) Any coupons I have clipped on mperks I apply to that item on my list.
For example, paper towel is on my list and my coupon is for Bounty 6 count or more paper towels. I am able to add a note under paper towels "Bounty 6 count or more".
Now, I no longer have to look back at my coupon to make sure I buy the correct brand or quantity, and my coupon will be applied. Meijer also offers rewards that gives you incentives to keep you a consistent shopper.
For example, $3 off your shopping trip when you spend $40 or more in Health Care by March 19th, $3 off your shopping trip when you spend $45 or more in Fresh Fruit and Produce, $8 off you shopping trip when you spend $325 or more in Total Purchase, plus many more incentives!
Be careful not to get caught up in buying items you do not need. Although, you may need the item eventually don't buy it until you need it! Good luck shopping and we hope these aps help.