If you are a small business trying to get your foot in the door there's probably something you've noticed: There are some websites that seem to be EVERYWHERE! They're in every search result in your industry, taking all your traffic and you are left wondering "why?!".
Why is this? Are they well known in the area? Good with social media? Perform a lot of marketing?…How?!
There might not be a clear answer – but we do have advice on how you can get your name out there and become an expert in your industry and increase targeted traffic to your website.
Step 1. Choose a topic
You have to start somewhere, and finding a clear purpose for your website content is a great first step.
Note: Make sure you pay close attention to the following advice when writing a content page:
You should be able to write a lot about the topic. Your knowledge of the subject should be vast and you are the expert!
Don't be too specific. Again, you need to be able to write a lot. A thousand words or more is best.
Write about something people will want to read. When you are trying to reach a targeted audience to bring in, quality website traffic, it's important to write about something people are actually interested in.
For an example:
Sunstone Health and Wellness offers essential oils for wellness clients in need of care. So good topics for them to write on would be:
• The benefits of essential oils
• Uses of essential oils
• Best essential oils for colds
Step 2: List phrases in relation to your topic
If your target audience were looking for the products or services you offer, what would they search to find your business? Putting yourself in your potential client/customers shoes is imperative to increasing targeted website traffic.
Here are a few suggestions to get started:
Keep it short. Avoid phrases that have more than five words.
Avoid slang words. That is…unless your target audience uses them.
Example:
• "Essential oil benefits"
• "Essential oil uses"
• "Essential oil types"
• "Essential oil guide"
Step 3: Check your phrase popularity
Although you think that your keywords are great to bring your audience to your website, does your audience agree? Use Google Keyword Planner to get started.
The first thing you will do is type in all of the phrase examples mentioned above. You can include all of them in one scan; just make sure you separate them with a comma.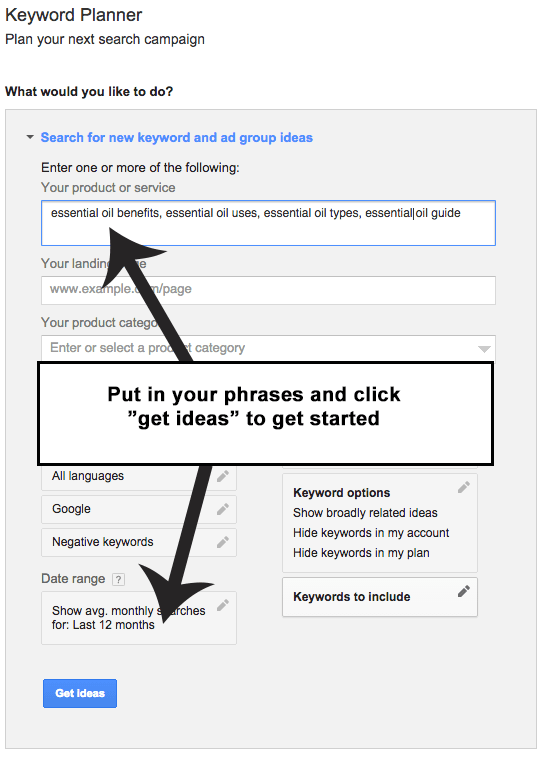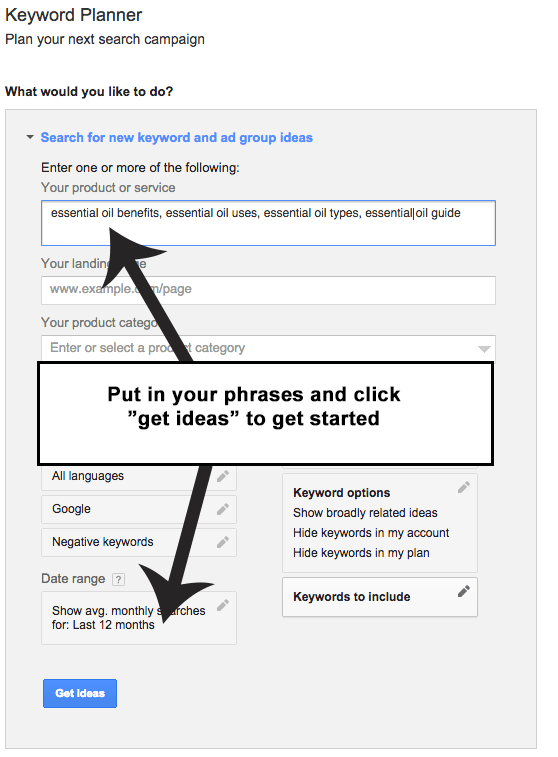 The next step is to click the "keyword ideas" tab. When you do this Google will give you a list of relevant keywords and how many monthly searches you get per month.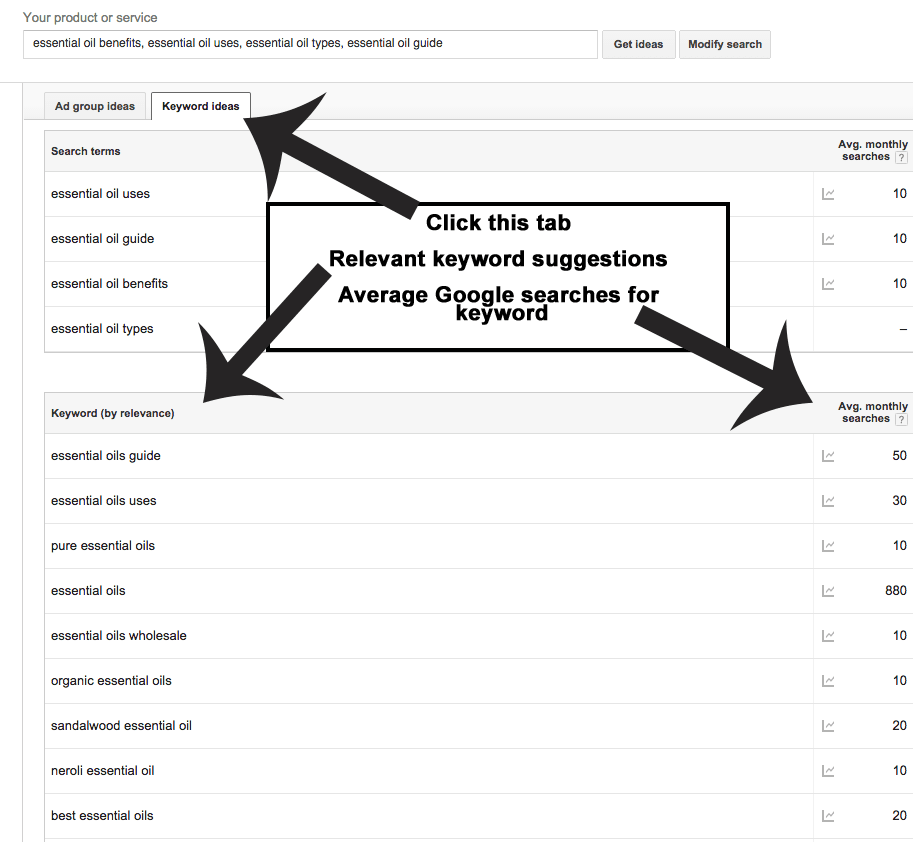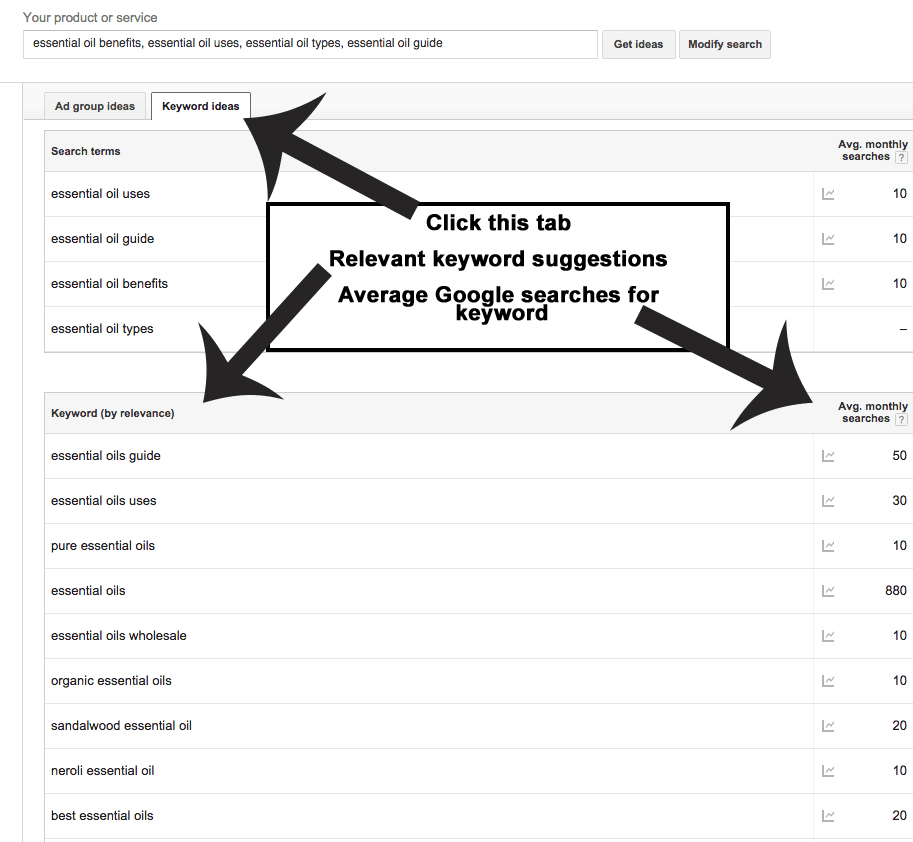 Note: If you are targeting a specific geographic area, make sure you look over to the "targeting section" of the Keyword Planner and put in the location of interest. For our example we selected "Indianapolis" because Sunstone is an Indianapolis-based counseling center.
Step 4: Google your phrase
Google might say that your phrase gets searched and people love it, but you should see for yourself the type of results that you get when you actually do type in that phrase.
Take a look at the results and ask yourself the following questions:
Are there a lot of visuals?
If you see Google ads, products and local listings then you have stumbled upon a "universal search result". Look to see what the top-ranked pages are. Is there a lot of clutter? If the top-result is surrounded by too many elements, it's a big distraction and would make your effort to show up for that specific term less effective.
Has Google bolded related words?
When you Google the phrase you are interested in being found for, are those terms found in specific search results? Is so, Google has created a "semantic search". A semantic search scrolls through the page title and meta description and pays more attention to the meaning of search terms rather than the optimized combination of words. Make sure to take note of the bolded words; they will help.
Are your competitors present?
If you Google your phrase and see absolutely nothing relevant to the phrase you have selected you might want to redefine your phrase.
For example:
If Sunstone were to use "essential oil" as their term the results would yield people trying to sell their essential oils online, the Wikipedia definition of the phrase, and big name brand websites.
Step 5: Write an awesome page of content
Content is king. Writing a good page on your phrase will make or break you. So take your phrase and write a content page or blog post about it. Go in depth and give details about everything you know on the topic.
Pay attention to the following when writing:
Length: Your blog post or content page should be long. To be more specific, it's important to have over 600 words but even more ideal to have over 1000.
Format: Having a large text block will not pull readers in. It's important to break up your content with bullets, pictures, bolded content, and subheadings.
Headlines: Headlines are important. Make sure your visitors have a clear reason why they should read your content page. Pull them in with your creative call to click.
Step 6: Optimize the page
Now that you've written a great piece of content, you have to make sure that people can find it for your phrase.
Since you picked your phrase before you started writing your page, you probably have already had it in the back of your mind throughout the writing process.
An optimized page has the phrase mentioned in the following ways:
• Once in a title tag.
• Once as an h1 heading
• One to two times as other headers – h2, h3, h4, etc.
• Four to six times throughout the body
Know that there are multiple places that your phrase can be mentioned throughout your post. From image alt tags, to meta descriptions and more. Make sure in your optimization process that you don't lose sight of your page or post's overall purpose. Don't let it become unnatural to the point in which your term seems to be "stuffed" throughout the content, ruining the flow of the piece.
Step 7: Publish your page
Read over your page, send it to a second set of eyes, and then hit "publish"! Once you do that, have Google Webmasters crawl your page. This prevents content scrappers from stealing it and using it as their own. After you've submitted it to Webmasters, it's time to promote it and bring traffic in.
Here are some tips on where to promote your page:
• Share it on your social media networks
• Plug it in your newsletter
• Link it internally. If you have pages or old blog posts that are relevant to the topic you are writing about, provide a link to the article there.
Step 8: Google your phrase


Keep checking back at Google and see if you rank. If you're lucky, you might show up right away on page one. If not, check back weekly. Are you on page 2? Your term you have targeted might be too competitive. Try updating the article with more content, reediting your page to improve the quality, or create more internal links.
Still not working? Get in touch with us and we can give you a few more tips. We'd love to help.