At the end of every year into the beginning of the next, many businesses begin to reevaluate their strategies for the upcoming year. For some businesses, this might be new marketing strategies, for others, this could be overhauled in full departments. What if I told you, that increasing sales and your marketing strategy could come into play in the most uncommon place that you could think of? Would you try it? Getting more sales and more exposure is as easy as posting on Social Media a few times a week!
How Dooes Social Media Increase Sales?
Good business owners know that the best way to generate sales is to know and understand their target market. Once you know who you are targeting, you can find simple but effective ways to engage them and build a relationship with potential clients.  All of this can be achieved with social media.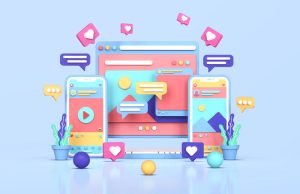 Tips for using social media for sales:
 It is important to know which platform is going to be the most effective for you.
Create a strong presence.
Build relationships by answering comments and messages. Ask them questions, reply to reviews (good and bad), and ask them for improvements on your products. All of these will show your potential clients that you care about their opinion and they are the priority.
 Post regularly and know the best times to post.
The Best Social Media Platform for You
We all know the big platforms, Facebook, Twitter, and Instagram; however, how do you find out which is best for your business?
Facebook– In 2017, Facebook found that they have 1.37 billion users that are active on a daily basis and over 2.07 billion monthly users across the world. Over 83% of all women and 75% of all men have active social media accounts. The main age range of users are 18 -34 year olds, which make up over 60% of all users. Not only that, but over 75% of all adults that make over $75,000 use Facebook. With all of this information, you can see that Facebook provides a wide range of demographics for you to target.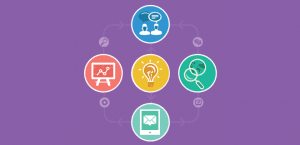 Instagram– Next on the list for most popular social media platforms for sales is Instagram. This platform now has over 600 million active users. Over 38% of all women and 26% of all men have an account. Again, the main age rang of users is 18-49 year olds which make up over 80% of users.  This is a quickly growing platform, and should mot be skipped over. This platform is one of the best ways to connect with your potential clients with all of the imagery you can provide.
Twitter– Twitter has always been one of the most debated platform when it comes to social media marketing; however, it is known to be one of the best places for social customer service.  A study done by Sprout Social Q2 2016 index found that over 34% of consumers prefer to reach out to agents over social media. Like Instagram only a small amount of men and women use this platform,  men making up 24% and women making up 25%.
What if you want to use all three, but do not have the time? Programs to schedule posts, track your content performance, and manage all of your accounts are out there, such as Buffer. Here you can sync anywhere from 3 social accounts all the way up to 150 (if you can come up with that many)! It is here that you can create one post that will reconfigure itself for all of the platforms on your account and post at once.  Why choose one platform when you can use them all efficiently?
Ready to Get Started with Your 2018 Marketing Strategies?
Here at Nextfly, we understand that maintaining a growing business takes up a lot of time. It is not always easy to post on social media a few times a week. Well let us take a load off of your shoulders. We have an amazing team that can create and upload engaging posts, so you don't have to.  Not only do we have the ability to engage with your potential clients for you, we can also help with your entire digital marketing strategies and paid social advertising.  If you have any questions or if you would like to learn more, reach out to a Nextfly Social Media Strategist today! We cannot wait to help you increase your presence and help drive more traffic to your company's offerings.