First it was websites, and then it was social media. Now we have to do what?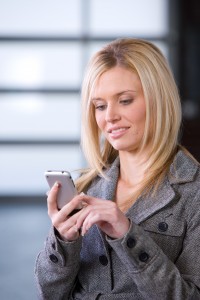 I know, we know, you know…you'd think at some point, we'd be up with the technology trend, but honestly, it's really a game of keep up…and keeping up is what we must do in order to continue to move our businesses forward.  NEXTFLY is here to help you do that. So, let's talk about this "mobile optimization" stuff so we can keep you informed on why this is important for your website and your business.
According to Forbes online and the latest Google research, if your business site isn't mobile-ready, this will result in lost customers. Period. And they've given us the research to back it up.
In a survey of about 1,100 U.S. adult smartphone users (not tablets, in this case), conducted by market research firms Sterling Research and SmithGeiger, here is what they found:
Two-thirds of smartphone users say a mobile-friendly site makes them more likely to buy a company's product or service, and 74% say they're more likely to return to the site later. "Mobile is creating massive opportunity," says Jason Spero, head of Google's global mobile sales and strategy.
61% says that if they don't find what they're looking for (probably within about five seconds), they'll click away to another site. Half say that even if they like a business, they'll use its site less often if it doesn't work well on their smartphone. "This is a wakeup call," says Spero. "You will lose customers at the moments that matter" without a site specifically made for mobile devices.
72% of users say a mobile-friendly site is important to them, but a nearly unanimous 96% have visited sites that aren't. "When you offer users a desktop experience on mobile," Spero notes, "it's kind of crap."
That being said, what are people really looking for when it comes to viewing sites on their mobile devices?
Big buttons and text – Google says to keep steps complete and to a minimum.
The way your website looks on your customer's smartphone is important. It needs to be clean, legible, and simple for your customer to understand what their next is.
If you need help with this or have any questions, hit us up. We'd love to help.