Have you ever wondered what your website could produce if you had a strong Digital Marketing campaign that includes Search Engine Optimization (SEO) and social media advertising? How about a non-stop funnel of leads and visitors pouring in to your site, filling out your contact forms, and/or buying your products. With the appropriate strategy, and a beautiful website, we can make what seems impossible, extremely possible.
What is Digital Marketing?
Digital Marketing involves making efforts to improve your online presence through digital channels such as Google search, email, social media and websites. The goal is to connect with their target audience and increase sales via these online avenues. The beauty of Digital Marketing is that this content is available anytime at the consumers hands. You can promote your brand in many ways and tailor your marketing efforts to the people you want to get in front of.
As a leader in Internet Digital Marketing, NEXTFLY can help bring your dreams to a reality. We have transformed many businesses over the last 12+ years and look forward to transforming yours. Work with our qualified Digital Marketing consultants and let's start building a plan that's right for you. By building a strong organic ranking position, organic local listing and digital marketing plan, we can get your business on the top of all three major sections of search engines. Shortly after, you will start seeing the huge number of calls, eCommerce sales, and/or call leads from it.
Indianapolis Marketing Company Strategies
While there is no cookie-cutter approach to building out your Digital Marketing strategy, there are several key-factors to consider. We will meet with you to discuss your primary objectives, your hottest offerings, and put together a timeline of goals that are achievable. Although there are numerous marketing opportunities we can take advantage of, here are some of our primary offerings:
Indianapolis Pay-Per-Click (PPC) Digital Marketing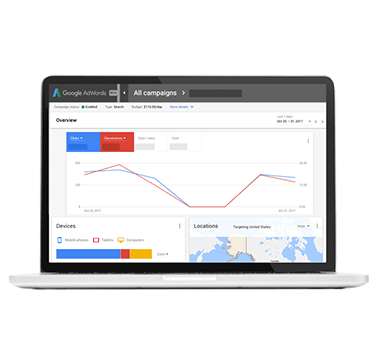 Clearly the most requested marketing strategy we offer is Pay-Per-Click (PPC). PPC Digital Marketing is not only a great way to increase leads and call volume, but also a great way to get results immediately. With PPC, your ads can started showing up in minutes after we submit the ad, where organic optimization can take several weeks to months to get results. At Nextlfly, we can work with your business to decide what an appropriate budget is, and then setup digital ads on the networks you wish to advertise on. At first, we will need to do a lot of research on what key-phrases we should build ads on, what the ads should say, what competitors are doing, optimizing the ads, then mining all the data we get to be sure our PPC campaign is as optimized as possible.
Work with our Digital Marketing company today and see how we can start pouring new leads, sales, and calls into your business today.
Pixel Marketing / ReMarketing
One of the hottest new offerings our clients are asking for is Pixel Marketing, which also goes by Remarketing, or Retargeting. Pixel Marketing is one of the best forms of Internet Digital Marketing today, as you encompass the idea of PPC marketing, but in a very targeted way. Essentially, we setup a pixel that will track ANY visitor that hits your site, then for the next set amount of time (15 days, 30 days, etc.), we can setup advertisements that will cater to what they were interested in. There is no better way to keep your brand, your product, or your service in someone's mind better than retargeting after they have left your site. This type of Digital Marketing has been a successful tool for many Indianapolis companies.
For an example, let's say you sell accounting services and some random user has visited your site because they overheard they were using your company for their business. Once they have visited your site, whenever they go on Facebook, Google, Local News sites, supported shopping sites, etc., they will now see your ad FRONT AND CENTER. Your ad will be show up in their Facebook feed, for example and your business will stay on their mind. The best part is, it's not nearly as expensive as having random ads popup all over the Internet to people that may or may not be interested in what you are selling. Contact us today and learn how we can setup a remarketing campaign that will help convert your visitors into paying customers!
Social Media Marketing
If you are like many businesses out there, you have several social media accounts setup, but very little activity across them. This is all to common of a problem, and at NEXTFLY, we will help get those dull/stale accounts turned around, and generating some buzz. With out Social Media Marketing packages, we can start growing your followers, and start building some truly valuable engagement. Having these accounts producing engagement will not only help build brand awareness, but will also help drive more and more business into your website or brick and mortar location. Work with us today and let's build a plan that's right for your business.
Call Us Now For All of Your Digital Marketing Needs
We have listed a few key Indianapolis Marketing offerings that our clients love, but there are still many more on our tool belt. Let's meet up today and discuss a Digital Marketing plan to accomplish your goals to achieve online presence your company desires. Call us today at 317-219-3111 or Contact Us now!