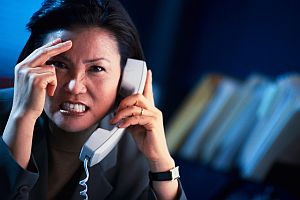 We bought a custom-made interior glass door from Lowe's for $400 several weeks ago.
It was supposed to be ready for delivery two days ago.
Actually, it was supposed to be ready for delivery well over two weeks ago, but a store representative called to matter-of-factly let us know that the door had fallen off the forklift in the manufacturer's warehouse, unfortunately damaged in the process.
The door, a special-order item, had to be re-made once again.
Okay, a marginal inconvenience.  Stuff happens.
We were assured that we would be contacted two days ago that the new door was ready for delivery.
That time frame came and went.
No call, no email, no door.
Lowes…hello!  Where the heck is our door?
We're already making payments on that non-existent door we ordered.  We called and couldn't get an intelligent human being on the phone to give us a status report on this custom order.
Curious, isn't it, how store staff suddenly get deaf, dumb and blind when you demand customer service, like, oooh – yesterday's yesterday.
Email requests? Again, no response.
Big businesses well-represented online and in their own brick-and-mortar stores need to realize they can only jerk us, their customers, around only so long before we post very negative reviews about their business practices on websites like epinions.com, my3centsworth.com, or ripoffreport.com.
Sad to say, those damning reviews tend to last forever once captured in the unforgiving universe of the internet.
Who cares?  We care – those of us who comprise that substantial group of money-wielding consumers who keep businesses like Lowes in business.  They've got competitors out there (does Home Depot come to mind?) and they know it.
But – and here's the rub – their low-rung employees generally don't give a hang about good customer service in these big box businesses.
And realistically, why should they?  They're bringing home fifty cents, maybe a dollar or two, above minimum wage.  They have no vested interest in that business they work for, nor in ensuring customer satisfaction.  These employees are focused on clocking hours, not caring whether we get that custom-made door when we want it.
They don't care that we are already paying for something we haven't received.
But you, as a small business owner, should care about providing top-notch customer service.  You should care about it a lot.  Especially if a substantial amount of your company revenue comes from your business website.
You don't need negative comments and reviews posted on consumer complaint websites.  Your prospective customers are destined to find them.   Trust me, they will.
I know.  I'm one of those custom-made complainers and review site regulars.
Internet users are googling like crazy businesses like yours.  Bad reviews and customer complaints will be out there flapping in the breeze, endlessly.
Websites like Emarketer.com will tell you the real deal about having a good reputation with customers online:
More than half of all online sellers considered user-generated content either  extremely important or very important to company strategy over the next year.
Your best best is to give each and every customer personal customer service, ensuring more customer revenue from them in repeat sales and conversion rates with new website visitors.
Yeah, it's that important.
Web traffic is nice.  Without that site-to-sale profit margin and strong conversion rate with new site visitors who research and find negative reviews of your company online, your website business is just another poorly-performing website that sits crippled by its own bad online reputation on the shoulder of the World Wide Web.
I wouldn't want to have to deal with that kind of negative business reputation for the long haul.
Doesn't it make more sense to ensure that every customer who walks away from your business is a satisfied customer no matter what it takes?
Lowes could learn a lot from small businesses that can't afford to jerk its customers around.
Got a question for Debi Ketner, nextflywebdesign.com's professional internet marketer and search engine optimization specialist?  Ask away – you'll get an answer in a future blog post.