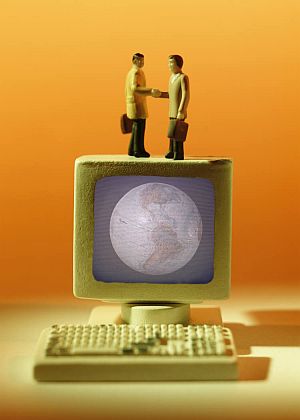 A friend contacted me saying she was thrilled with all of the link exchange requests her relatively new website was getting from other website owners.
These other companies must really love her business website, she said.  They must think that her professionally designed website is so popular and so fabulous that they want to give their own website customers the chance to visit her site through a link on their page.  Right?
And if she were to give them a link in exchange to their websites as they requested, that's only fair, isn't it?
She also forwarded to me one of the many link request emails she has recently received.
It read:   "I saw that you link exchange with other websites, so I was wondering if you would like to trade links with my sites.  If you would be willing to exchange links, please use the following."
What followed were a half dozen websites with links and descriptions that she was expected to add as links on her website, like all the other recent link request emails she's received that included a promise at the end of the email:
"Please let me know where you added my links and your website info so I'll add your links to my pages as well!"
Nice enough email, polite enough request.  But her business website doesn't have any outgoing links, let alone those designated as "reciprocal."
First big red flag
My friend is obviously the recipient of form letter emails sent out randomly seeking reciprocal website link exchanges from business websites who don't know any better than to try to participate in these exchanges themselves.
If so, the senders would have clearly seen on her website that she doesn't maintain an area for outgoing links to other websites.
Second big red flag
None of the website links in these emails she's been receiving for reciprocal link exchanges have anything to do with the content nor the merchandise available on her business website.
Travel agents and handbags?  Real estate and basketball shoes?  Technology news and cell phones?  Not even close.
Years ago, link exchanges between websites was a well established, promote-worthy way to do business.  Today?  It's iffy, at best.
When you exchange links like this, the websites you link to must be ones that are relevant to your own website, its content and keywords.  For instance cell phones and designer handbags have no relevance at all with a website that markets windows or carpeting.
To exchange non-relevant links this way would only decrease your own page rank and the other site's ranking as well.
And even if you are on a level playing field with other websites, you generally don't want to engage in a link exchange.  You want websites with similar content (and preferably higher page rank) to link to your website without you having to reciprocate a link back.
Relevance, relevance!
When it comes to blogroll links, stay focused on your website in terms of relevance – including keywords and content.  Only link to solid, worthy websites that are relevant to your own site's content. Even then, it's a bit of a losing game because search engines like Google aren't that crazy about links.  They prefer incoming links from other websites with a higher page rank than yours.
Not your site linking directly back to them.
Think of exchanged links as kind of negating each other in terms of link juice.  Your site and the other sites receive nothing beneficial in terms of page rank or search engine placement.
Try focusing instead on outgoing text links to authority websites that are relevant to your website's keywords and content.  Search engines will then crawl your site and consider your site to be worthy of higher page rank and placement.
Seowizz.net suggests:
If you're thinking about a link exchange, ask yourself the following questions:
*  Am I exchanging to point my readers to a useful, relevant resource?
*  Will I still award a link even if I don't get one back?
*  Is the page the link is pointing to a relevant quality resource?
If you can answer yes to them all, you're on the right track.
Debi Ketner is a professional internet marketer.  Read her here each week on nextflywebdesign.com and share your thoughts!