Last year I was looking at an article at my friend's blog, Schwarz Tech, that profiled an iPhone home screen set up, and I realized that one's home screen says a lot about them. That statement still proves true today. My iPhone home screen has everything that's important to me, both professionally and personally. Now…let's check out how they've changed over this past year!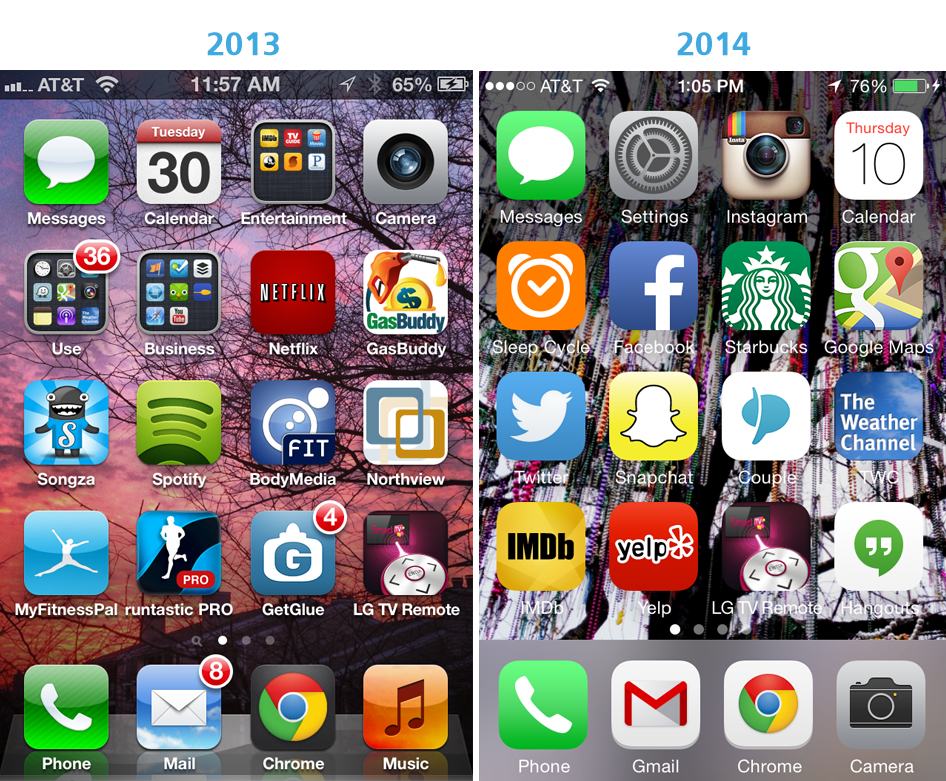 My active lifestyle was my main focus back in 2013. At the time I took the image, I had just done a mini marathon and was on my way to finishing up a yoga 30-day challenge. I tracked all of my calories and activities. I was strict.
Mid summer I started going to CrossFit. I stopped running long distances and stopped tracking my calories. Instead, I ate food that was all natural and good for me. Nothing "diet this" or "fat-free that". Due to this, many apps that once existed on my home screen were no longer relevant to me.
Nutrition-based apps were taken over by social apps. I tried to ignore my love of social media in May of 2013, but now I've admitted to myself that it is a part of my life and is not going away any time soon.
Also taking over my screen are apps that I use most often with the person I started dating after May 2013. Snapchat, Couple, Gchat and Yelp are all apps that help me communicate and plan things with my significant other. What cute coffee shops are nearby? Check on Yelp. What should I get from the grocery store? Look on our list on Couple.
Speaking of coffee – it took me awhile, but I finally got my card set up so I have a Starbucks account. I like free things so getting a free coffee every once and awhile is simply the best!
One thing that has also become a huge priority of mine? Sleep. When your days are full of workouts, date nights and work – I value a sound sleep and I keep track of my nights by using Sleep Cycle. Which has significantly helped getting out of bed become a bit easier.
One thing to also pay attention to that's different on both screens – check out all the Apple apps. They are ALL different in design. Much simpler, cleaner. Which is a popular design trend of late 2013 until present.
What about you? Have your app usages changed a lot recently? You a big Snapchat fan? Not loving Facebook anymore? Feel free to shoot us a message on twitter @nextfly or visit our Facebook!