There are a lot of bloggers out there these days, so you'd think that it must be easy to Become A Professional Blogger.  That is not true at all.  You aren't just creating your blog, you also need to establish an audience.  
There are many types of blogs, but the ones that are important to businesses need to have the goal of developing your brand as you write.  In addition to gathering your information, you need to write in a manner that is easily understood by the reader. Using "keywords" is a skill that will help you to do that.
Find your message
When you begin your blog, you need to that your time to find the message that is distinctly you. Once you decide what that message is, you need to remain consistent.  As you develop a following, you need to continue to provide the message that originally attracted the reader you have.  That's not to say you should constantly repeat yourself.  Instead, you should use your original thoughts as you develop your reader's interest and understanding to further guide them in both enjoying and learning from your blog.  
As trendy as blogging has become in the personal realm, it has also become an integral part of marketing plans for businesses as well.  In today's world, it is widely considered essential as part of a company's strategy to both secure new business as well as retaining existing accounts and customers.  
Express your message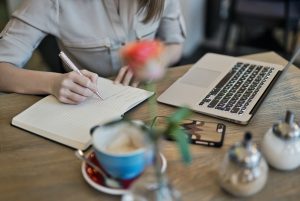 Blogging is a unique way to express your company's message, services, or products.  It can complement your website by further addressing your current message.  It can also be considered proactive in addressing questions those who are looking at your website may have.  A good blog may want to have a little of each of these qualities in its posts.  Your ultimate goal should include having the reader want to come back for more.  
Having this information should lead you to ask yourself where you begin with Becoming A Professional Blogger.  You need to decide how you want this to correlate with your current website, perhaps by asking yourself who your target audience will be.  If your website is fairly new, you could start with addressing Frequently Asked Questions that may be actually generated from website responses.  Hopefully, your customers will inspire you.   A very important thought though is to start with an appealing title, as "FAQs"  is overused, and begs the readers to skim over your material.  Maybe even address an aspect in depth for each bog.  You DO want them to return to your site/blog, right?   In a business blog, you might keep with the pattern of writing short, but frequent blogs.  
Always remember how important first impressions are, and that with every blog you write, it is most likely to be the first impression for some new reader.  There are many blogs today for readers to choose from, and you are the person responsible for keeping readers returning to yours. 
 Getting that reader back means ending your blog in a way that will most insure that it will. There's a variety of methods, depending on what you are looking to accomplish.  Are you looking for an immediate sale, or are you trying to make the reader think about something? Do you want to give them a teaser to make them return, or do you just want to summarize what you've said? Whatever way you choose to end, your blog will be driven somewhat by your purpose and your audience, and your confidence will grow with each blog you post.    
Let Nextfly write your next blog
Even if you're not looking to Become A Professional Blogger, our experienced team of content writers and bloggers are able to add content to your site to help improve your search rankings and drive more business to your website. Reach out today to find out how we can help!