A few months ago Nextfly got a brand new office location. (yay!) With that new location I got something I've never had before – my own office.
Now, I'm not going to lie, my office looked pretty lame at the start. It had a filing cabinet, a stand up desk, a TV and two chairs.
When I had clients come into my office they still assumed that we were just moving in, but it had been months.
I thought to myself "this really makes me look lame, time to step it up"
So I did what any good millennial would do: hit up the internet.
The Start – Furniture Shopping
To get started with my office, I knew I needed a new piece of furniture because my Apple TV just sitting on the floor did not look good at all. I started off going to local stores, but wasn't finding anything that was both cost effective and looked cool.
Furniture websites to checkout:
Overstock.com  – This had some nice furniture and a great variety. Also, if you sign up for the newsletter, you get a 10% off coupon to use right at the get go.
Amazon.com – Never a bad option. Amazon always has a great assortment of furniture and decorations. What's also great about Amazon is its variety of user ratings. You don't want to get a piece of furniture that is either difficult to assembly or poorly made.
Wayfair.com – Wayfair is all about interior design. From furniture to wall decorations and even rugs, Wayfair has a great selection. It's also really easy to navigate through the site and find exactly what you want with their extensive search functionality.
Conclusion: I ended up going with Wayfair. They have great prices and free shipping. It took two days and I got my shipment. Super easy purchasing process – annoying set up. Furniture building is no fun.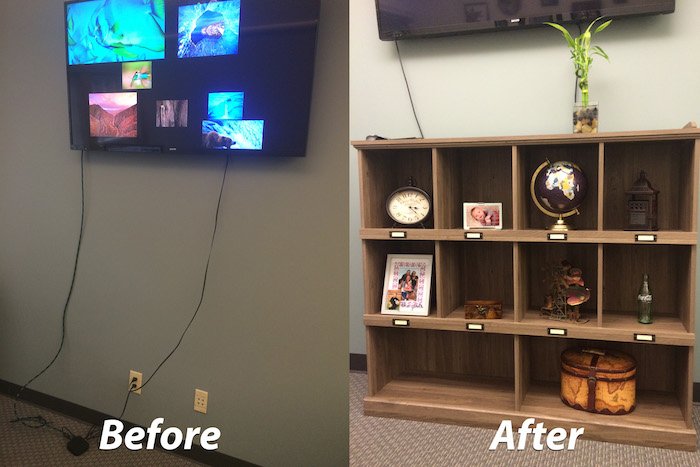 Wall decorations
I had a lot of wall space, so I knew I wanted to find something to hang. I started off, again, looking in the stores around me for some awesome canvas art – but didn't want to spend the big bucks. After that I decided that I'd try using the internet to find inspiration.
Wall decoration inspiration websites
Etsy.com – Etsy is a great place to find cool, hand-made art, plus their art is very affordable. You could find a custom-made print for $15 in comparison to a canvas of the same size for loads more at Kohls or Target.
Pinterest.com – What better site to steal people's ideas from than the idea capital of the internet? PINTEREST! Added bonus: now you can buy using Pinterest!
Conclusion:  I searched "Industrial office" and found a picture that was exactly what I was looking for. It was a collage of photos in a variety of different frames with photos of famous landmarks, signs, clocks, letters and more spread throughout it. I had my idea then, just had to find some frame and take some photos and I'd be good to go!
Photo Printing Websites
There are a variety of different stores that can handle the development of photos – some being better than others. Luckily, it was around Christmastime when I looked into things and so there was a variety of discounts out there. Below are the three that I used:
CVS.com – CVS has loads of locations and discounts as well. Sending photos in is easy as pie and they'll have them ready for you right away!  However – my black and white photos did not print out. Sup with that, guys?
Walgreens.com – Same benefits of CVS. Super easy to use, affordable and many locations. If you are in a hurry, Walgreens is a safe bet. My black and white photos turned out, however, I did feel that the coloring was much different printed out than it did on my computer. Not cool, bro.
Staples.com – Not as user-friendly of an interface, but I feel like they can do a lot more when it comes to larger prints. Also, when you submit an order, they even have people call and tell you when it's ready! That's some customer service. Also – the prints turned out to be the best quality of all three. They win hands down.
Conclusion:  Always look at the photos before leaving the store. Don't be afraid to tell the cashier that they don't look the way they should and…yay, Staples!
Frame Idea Website
You can buy frames from Kohls, Target, Hobby Lobby and many more places, but I got the idea of going to Goodwill from a blog post a friend of mine wrote when she worked there. Another great way to find inspiring pieces for the fraction of the cost.
GWgoodstuff.com – Great blog about repurposing things found at Goodwill.
The combination of all these great websites, plus a lot of Goodwill Stores made my office transform into the office of my dreams. It was all super easy to do, just takes some hard work and loads of mouse clicking. Now that you know the secret to my success – get going and make your co-workers jealous while staving some time AND cash!