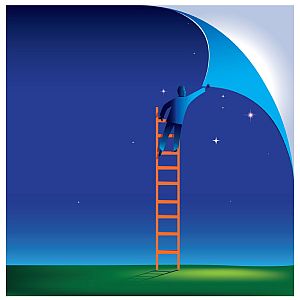 At one time or another, we've all been smitten with one social networking website or another.
Facebook.  Twitter.  Ning.  Meetup.  LinkedIn.  Bebo.  Blee.  Blah.  Bleu.
You know what I'm sayin'.
There are so many out there that you start feeling as if you are either pimping your website through these social outlets (hyped by these outlets that they are supposedly designed to promote oodles of sales for your online business – or so they promise).
Or you're blathering like an idiot trying to keep up with them all.
Truth be told?  You can't keep up with them all and still maintain a decent business website that's up and running efficiently and coherently.
Especially if you are primarily focused on adding new content to your website through a blog.
Website blogs take time, effort and a lot of thought.  After all, what you're putting out there through that blog is going to sit on the Web until time immemorial – unless you decide to delete it.  But for all intents and purposes, blog posts literally become an important potential customer portal for your website business when visitors hit deep pages of your blog from their own search engine results.
I'm not finding from my own experience that the same positive results are possible with social networking.  I expect a lot of readers may disagree with me (or maybe not), but it's my opinion that the time involved with social networking and the low conversion rate involved in the way of good solid leads or outright sales for a website business?
Basically a serious deal breaker.
You can have fun with social networks.  You can fool around with social networks.  But it really doesn't come close to the kind of visitor-turned-customer conversion rate you can achieve from good old search engine traffic.   And from that search engine traffic, as opposed to social networking, you can gain a considerable amount of customer retention by closing that first successful sale.
I love Twitter just because it's a fun application for, well, having a little fun.  It isn't going to make my business more profitable, not by a long shot.   Those who participate in social networking aren't looking to actually "buy" something, they're in the market for entertainment.  And that's not all bad.  If you provide them with entertainment via Twitter or another social networking website, it lends somewhat toward your own business branding.
But you won't reap solid profits from it.
That's the reason why people who come to your website through keyword searches on search engines like Google, Yahoo and Bing, landing on a blog post you've made in the past or land on your own website page content are coming to your website because they are driven to buy.  They're seeking a solution to a problem or have a need they want to satisfy.
So why would you want to waste your own precious time with social networking when you are primarily focused on generating new sales from your website?
Realistically, you wouldn't.
Build up that blog, beef up your own website content and its keywords.  Get both your blog and website as search engine optimized as possible so that your business website ranks high in search engine results so that you don't have to mess around with trivialities like social networking.
It's nice if you have the time to dilly-dally on these sites, but if you don't, your own website can become your best internet "calling card" generating new business for you from for those conducting keyword searches and your own deep pages accessed during search engine searches.
A proven fact in terms of website success.
Like what you've read here?  Debi Ketner is a professional internet marketer.  Read her here each week on nextflywebdesign.com and share your thoughts!