Heading into 2013, a lot of people make resolutions of goals they'd like to accomplish in the New Year. Then there are also those people out there that say they don't "do" resolutions, but still start working out more or are beginning to set a budget.
To accomplish these goals it's important look for help. These days, instead of looking at another person – reach in your pocket and pull out your smart phone.
Just this past week Apple's App Store passed 40 billion downloads since launching in 2008, which nearly 20 billion apps downloaded in 2012 alone. Looking at those numbers, you know people love their apps!
So what apps are available for your resolutions? I'm here to break that list down for you with a rundown of 2013's most popular resolutions with their app to match!
"Learn a New Language" App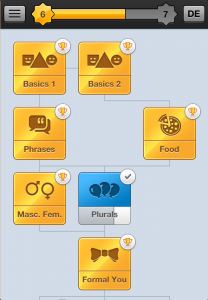 Duolingo – Looking to learn a new language? Duolingo can help you do just that in the convenience of your own home and, most importantly, for free. Each language on Duolingo is broken down into a tree of skill levels and individual lessons, which consist of several challenges. As you pass challenges, you earn skill points by completing lessons
and working your way through the tree. The coolest part though? By connecting Duolingo with your Twitter or Facebook account, you can have fun competing with friends while learning Spanish, French, German, Brazilian Portuguese, English, and most recently, Italian.
Cost: Free
"Save More Money" App
Mint.com – The New Year is as great of a time as any to start keeping track of your money. It's impossible to set a budget if you don't know how much money you spend, where it is spent, or how much you save. The Mint.com app is a free service that can help you do all that and more. The app provides graphs and charts to monitor spending, alerts you to overspending and upcoming bill due dates, and seeks money-saving offers for you. All of these services are available automatically – all you do is enter your online bank and credit card account information and Mint will cover the rest.
Cost: Free
"Lose Weight" App
Calorie Counter & Diet Tracker by MyFitnessPal – This MyFitnessPal app helps you figure out how many calories you're eating versus how many you're burning. It can also help you track and watch your weight and measurements over time. To obtain the best results, you have to be diligent about logging everything you eat and drink, and all the exercise you get. Like most diet program on the market, you have to do the work. The tools are available, but YOU have to be the one to utilize them effectively.
Cost: Free
"Read More" App
Kindle – One of the most popular New Years resolutions is to read more books. Amazon's Kindle app helps you turn your iPhone into an e-reader by allowing you to easily flip through pages by the swipe of your finger. Also if you didn't want to purchase numerous eBooks, Amazon works alongside libraries by loaning out books through their "Lending Library" service. Check with your local library to see if it offers Kindle book loans.
Cost: Free to download/Cost vary for eBooks
"Spend Less Time/More Time Doing…" App 
Wunderlist – Wunderlist is a time-management app that is available on just about every device you can think of, including a web app. One feature of the app that is helpful is shared lists. Shared lists are really helpful if you're planning a party or working on a group project. Wunderlist is simple, elegant way to keep track of your priorities. Pick a category, such as "Work," or "Private," or even a fun "Movies to Watch," then add different notes or tasks you have for that list. You can set due dates or reminders and even select the edit button to scratch off the sometimes-overbearing "to-do" list.
Cost: Free
"Quit Smoking" App
Kwit – This quit-smoking app will honestly not help you quit, but serves as a great reinforcement when you've decided to. When you get a sudden craving, take a look at your phone and Kwit will see the time that has passed since you've stopped smoking, the money you've saved and the number of cigarettes you haven't smoked. These stats will also be provided to share on Facebook, Twitter, email or iMessage so you can promote your success to others! Kwit uses a game design technique to encourage people to quit smoking by allowing users to get higher and higher rankings as they learn about the benefits of stopping smoking on their body and mind.
Cost: $1.99
Any other great New Years resolution apps you suggest? Let me know in the comments!