The other day I was listening to a coworker speak to a client. They were interested in a website redesign, but when it came to making it mobile-friendly, they were hesitant. In their minds, they thought about the added cost before considering the many advantages that a mobile-friendly website brings.
Let's start breaking down some facts here. Did you know that as a nation more than one-third of homes have tablets? In addition, more than two-thirds have smart phones.
Mobile device users aren't visiting websites hoping that they are compatible for their device and easy to read, they are expecting it.
Most websites these days have traditional website designs with graphics, tables and widgets that make it difficult to navigate and find the information you are looking for.
Smartphones ownership is steadily increasing every year, with 55% of American adults owning a smartphone as of September 2013.
Of those adults, 60% of cell phone owners use their phone to access the internet so it is important to give them the best experience on your website when they do.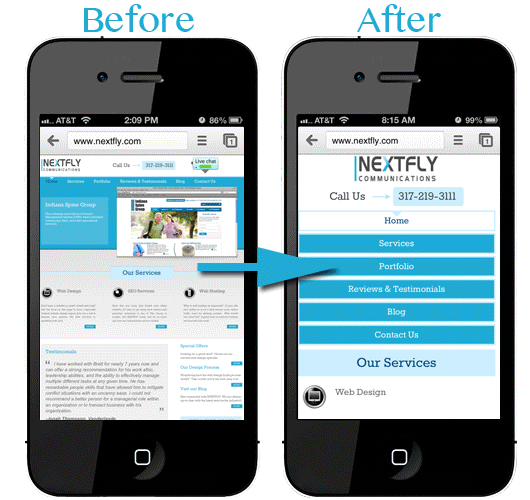 Like the website design you currently have? Great! At Nextfly, we'll give your customers a quick and easy-to-use mobile version of your website that is tailor-made for your customers mobile device.
The website will be easy for the viewer to load, it will have larger navigation buttons to allow them to move to each page of your website without troubles, and won't frustrate your customers into turning to another company to find the information they're looking for.
Now's the time to get a mobile website for your business. Don't second guess mobile, but instead be a step ahead of competitors and on track with what you client desires and deserves.