Wooden pallet furniture, glass jar light fixtures and or repurposed shelves on the wall. These are all projects that can be done with little to no money-spending and instead using what is available around the house. In today's society, there is a growing trend of people taking on this self-sustaining, independent approach to their day-to-day lives. This is mostly for the benefit of saving money on materials by reusing and having the attitude of do-it-yourself, or "DIY".
With Pinterest steadily gaining popularity as one of the more visited websites on the internet today, more and more people are reaching for the hammers and sewing kits to create personalized and customized items, instead of paying a high price for ready-made generic products that aren't necessarily worth the cost. Although most DIY projects are beneficial in saving you money and giving you a sense of pride knowing you have built something on your own, however, one thing the average person should not build is a website.
A wine bottle can be painted and customized with your personal touch that makes it your very own unique, one-of-a-kind vase. The same cannot be said for a website created with a free template that thousands of others are also using. DIY web builders are very basic, not customized, and require little to no added "touches" for it to be considered ready for the world to see. This is not what someone should want for their website, which is an outlet that represents their personal brand or company. Like the wine bottle vase, your website should be created with any personalizations that will best represent your brand and make you stand out among the rest.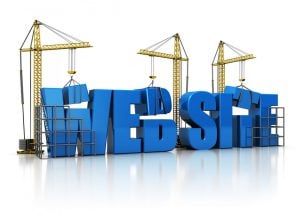 Along with having a customized website, you also want to have
appealing content that is professional-looking. A site created by an experienced web developer, will
obviously be more attractive than the lesser, DIY version. You also don't want to waste your time. Just like ensuring a piece of furniture is built by following each instruction, your website should also be constructed just as thoroughly. Letting someone who knows all of the steps and shortcuts will save you a great deal of time and energy. A DIY website is also not optimized for Google searching, or SEO. There are plenty of other sites out there that are more appealing and take precedence for Google to crawl, so a simple "paint-by-numbers" website will simply fall by the wayside. If you want to have a relevant site people can find and that you can have access to its analytics, you need to have a professional product made by a professional web designer.
With the use of mobile devices at an all time high, it is important to have a website that is mobile-friendly. This is a feature that DIY websites don't have either. You want to make sure that people who browse your site on their phones will have a user-friendly experience. Another factor to consider with a DIY website is how long it takes to build it. You wouldn't construct a craft in five minutes and expect it to be a masterpiece. With professional web designing, you can expect it to take weeks or even months to perfect your customized, high-quality website.
So, if you think you can create a website from the ground up because you successfully assembled a cabinet via a YouTube video, think again! You will thank yourself later when your business is booming due to your professional and eye-catching website.