On April Fools Day, loads of people around you might try their hand at a prank or two. Maybe it's your teacher assigning you a "pop quiz" or your sister telling you she found your "birth certificate" that says you are adopted.
You think you might be safe looking something up on Google or searching what video rental you'd like grab at Redbox, but you aren't. April Fools jokes are all around. Here's a breakdown of a few.
1. Google – When you are searching for something you often have a website search result,
or an image search result. Now, Google has introduced "Google Nose"…beta. This new
service gives you the opportunity to search with a different sense – smell. It's a funny concept, but not the most creative of the bunch.
2. Twitter – Having only 140 characters to utilize while tweeting may be difficult for some, so Twitter has come up with the idea of a new service called Twttr. In a blog post from Twitter they stated that "Everyone can use our basic service, Twttr, but you only get consonants. For five dollars a month, you can use our premium "Twitter" service which also includes vowels." …I think this is a funny one. Makes me wonder what they're going to do next year.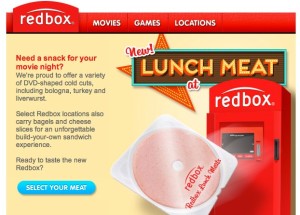 3. Redbox – I'm sure you know you can get videos at a Redbox kiosk, but do you now
know that you can also make a sandwich? Choose from bologna, turkey and – my favorite – livewurst! (Because who doesn't go straight for the liverwurst when making a sandwich.)   Unlike all the other April Fools jokes, this one comes with a promo code. Use "APRILFOOLS" at a kiosk today and get $.50 off your rental.
4. Sony – Sony is developing headphones for pets called Animalia. It said in a press
release, "now that there are more households with pets than with children, we are
targeting pet owners who want to provide unique entertainment experiences for their
furry, four-legged family members." A funny concept, yes. The best part of their joke?
The pictures that accompany the press release.
5. YouTube – I saved what I thought to be the best – for last. YouTube said it was shutting down – completely. After eight years of delivering the nation video entertainment – it is searching for the best video on the web. The company also teamed up with The Onion to create an awesome YouTube-star-studded video explaining the process of picking "The Best Video." It's 3:30 minutes of funny and, unlike Google Nose, is worth checking out.