I had never actually visited Arizona before my wife and I, along with our two girls had begun making plans to relocate from Indianapolis, Indiana.   I had seen plenty of movies with beautiful Arizona backdrops and desert settings.  I still get reminded of Raising Arizona, I laugh when I think of John Goodman's character digging his way out of prison.  The truth is I didn't know much about the place at all.  I only knew that Phoenix was warm and there wouldn't be any more winters to deal with.  I have always been a big fan of warm weather.   When I was 4 years old, my family relocated us from Ohio to Clearwater, Florida.  I grew up in the heat.  When I was 17 my family relocated again to Indiana.  I am eternally grateful to Indiana for the amazing friends and family that I have acquired during my time there.  I often wish I could move everyone I care about to Arizona.  On the bright side, we do get a lot of visitors especially during winter.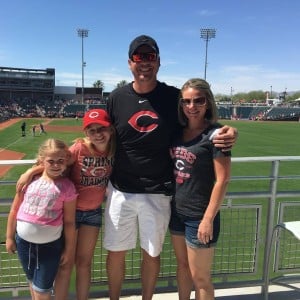 Moving your family 1,800 miles across the country is not a simple task.  We moved to the Phoenix valley back in 2010.  My wife's company had given us a major incentive to relocate to Arizona.  It was an offer that was too good to pass up.  It seemed like all the stars were aligning and we somehow knew that we were doing the right thing.  The housing market had recently crashed as you may recall.  The Phoenix market was severely impacted when the bubble burst.  We had our pick of beautiful properties sitting in foreclosure.  In addition to that, my wife's company bought our Indiana home (which we were upside down on).  All the lights appeared to be turning green for us to move so we loaded up the truck and we moved to Arizona. 
Ironically, the year before we came here, my favorite baseball team had also relocated to Phoenix.   The Cincinnati Reds have their spring training right down the street from my house.  I did mention that I was born in Ohio.  I come from a long line of Reds fans.   The month of March is probably the most beautiful time to visit Arizona.  There are 15 baseball teams that call the Cactus League home.  If you are a big fan of baseball like I am, I highly recommend putting Phoenix on your list of places to visit.
I also play a lot of golf.  The Phoenix area is considered by many to be the golf capitol of the US.  I think my next article may be about surviving the extreme heat of the summer while golfing.  I've learned a lot of cool tricks to beat the heat.  We got so lucky with the house we found, I am on the 5th hole of a Nicklaus designed golf club.  Golf can be expensive here in the winter months but come summer, the rates go down to mega cheap and there is no one on the course.  They all get scared of the 112-degree highs.  It's a dry heat.
Relocating to Phoenix from the mid-west can be a bit of a culture shock.  The culture here is definitely different in many ways.  Being that Arizona is a border state, there is a strong influence of Hispanic culture here.  I love that!  The food is amazing!  Another shock to the system is just the terrain in general here.  In the mid-west you get used to seeing lots of grass and trees.  While Arizona does have some of that, the overall look of the place is mountainous with desert landscapes and cactus.  It can often be unsettling when we visit Indiana.   The plant life and trees almost seem overwhelming.  I do love that fact that we can always escape the heat of summer with a short road trip.  Every year we drive 2 hours north, toward Flagstaff, AZ.  There is a 20-30 degree drop in temperature.  Flagstaff has massive pine trees and reminds you of the Pacific Northwest.  It's always a great way to escape and go camping when the heat in Phoenix becomes oppressive. 
Recently the family and I took our camper up to Lake Havasu City.  Lake Havasu gets its water from the Colorado River, which means that even in the warmer months the water is generally cool.  The campground that we used had a beautiful beach at the lake with giant mountains as a backdrop.  It was one of the most beautiful places that we've found so far. 
Leaving behind everything that you've previously known and making a move to Phoenix can be scary.  Everyone that we've talked to that has made the move has not regretted it.  Our relocation to Phoenix has been an amazing adventure!   I would only recommend it if you enjoy baseball, golf, warm weather and beautiful nature. 
Luke Wiseman
NEXTFLY Arizona
[email protected]
623-210-2928