PHOENIX MOBILE DESIGN IS EVERYWHERE!
If you open up a Phoenix website on a mobile phone, it should be sized to fit that phone, right? With a Responsive Website Design, your site will do just that by allowing your website to fully function at the best size on all mobile devices, such as your iPhone, DroId, iPad, or tablets!
NEXTFLY has a portfolio full of Responsive Web Design examples that are focused on usability, accessibility and performance, ensuring an optimal experience on any range of mobile devices. Let us add mobile design to your phoenix web site today!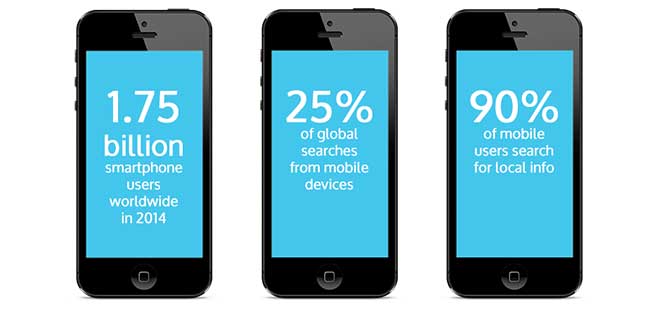 WHAT IS PHOENIX MOBILE DESIGN?
Responsive web design (RWD) is a website design method in which Phoenix company's websites are created to span all devices in a simple and elegant way that provides an effective and efficient viewing experience for any user. With Responsive web design, you don't have two websites that you have to develop separate content for. You have one site that displays to mobile users the same content as desktop users, so creating and editing content is very easy.
WHAT WE THINK ABOUT MOBILE DESIGN:
Every day, more and more Americans are using their mobile phones and tablets to surf the web, make purchases and learn about Phoenix companies nearby. Currently, mobile devices make up a quarter of all web traffic and that rate is increasing everyday. If you take a look at your website traffic, how many of your visitors are coming from a mobile device? More importantly, how many visitors are you losing immediately because your website isn't optimized for for mobile design?
It might be time to make a switch to Phoenix Mobile Design.
The Benefits of Phoenix Mobile Design:
Increased traffic- Not only will your viewers like your mobile-site, since it will be a user friendly design, but Google does as well. By having a Phoenix site that has a mobile design, your website is more likely to show up in Google's search results by a user performing a search via a mobile device. These days consumers don't wait until they're at home with their desktop to perform a search, they immediately search on their mobile devices while they're shopping, eating, watching TV, and even in bed. Google understands the importance of this and rewards company's with a Responsive Web Design, and will in turn rank them higher in search results done on a mobile device.
Reduce bounce rates– When website users come to your site on their mobile devices, they decide immediately if they're going to stay – or go check out your competition. If your website design is difficult for users to find what they are looking for immediately, (which most desktop sites don't), they're going to leave without even looking at your content. Having a mobile optimized site that is easy for your viewers to navigate, will keep them around longer, which could result in a new client or customer for your Phoenix business.
Increase conversions – A website that's responsive makes it easy for your Phoenix customer to do what you want them to. Want them to sign up for your newsletter? It probably would help if the form fit in their phone or tablet screen and the "send" button was easy to press with the tip of their thumb. At NEXTFLY, we know that It's hard enough to just to get a website conversion, and not having a mobile-friendly website is just making your job even more difficult.
HOW WE CAN HELP WITH YOUR PHOENIX MOBILE DESIGN
No matter if you already have a website or are starting all over with a brand new website design, we can help! Our Phoenix developers understand the needs of mobile users and develop user-friendly Phoenix Mobile Design sites that look like they could be stand-alone sites themselves.
CHECKLIST FOR YOUR PHOENIX MOBILE DESIGN :
Does it load on your mobile device in three seconds or less?

Are your eyes attracted to the key selling points?

Are you able to easily read the content?

Is it easy to navigate?

Are you able to recognize the call of action? Are you able to act?

Does it provide a good user experience?

Would you spend time on the site if it was not your own?
If your current mobile site isn't up to speed, or your website isn't optimized for mobile, our Phoenix Mobile Design Company can help.
CONTACT OUR PHOENIX MOBILE DESIGN COMPANY TODAY!
Take a look through our portfolio to see examples of mobile sites we've done for our clients. Interested in learning more? Give us a call, fill out a contact form, or get in touch with us by using the "chat" feature we have enabled on our website. We welcome all Phoenix business, large or small. We look forward to working on your Phoenix Mobile Design soon!